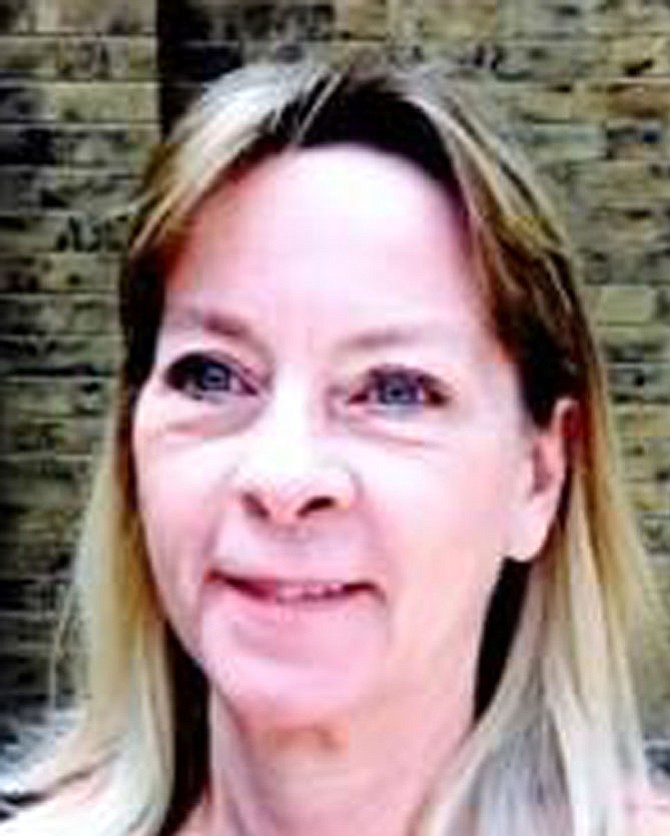 Linda Faye Carter was born Nov. 5, 1953, in Buffalo, N.Y. She died with her family by her side on July 26, 2017, after battling breast cancer. She is sorely missed by her husband Alan, son Rhys, daughter Morgan, mother Mary Parkhill, brothers Jeff and Dave Parkhill, and their spouses Paulette and Kathy.
Linda grew up in Buffalo until, at the age of 26, she met her future husband, Alan. They moved to the Alexandria area in 1979. She and Alan then jet set around Europe for 7 years before settling back in Alexandria, where Linda became involved in the Fort Hunt community. She began working at Hollin Meadows Elementary School in 2000, and remained for 17 years.
In an email to the community, Hollin Meadows Elementary School Principal Jon Gates wrote: "With her myriad of talents, she made a positive impact throughout the school. Perhaps her greatest gift was her creativity. Her efforts, appearing on t-shirts, newsletters, nametags, posters, certificates, etc., created a Hollin Meadows brand that students, parents, and the community came to positively associate with our school. Linda blended her outstanding creativity with exceptional efficiency – a rare combination. Her ability to 'get things done' was remarkable. Whether organizing the Thanksgiving luncheon for 900 people or preparing the school yearbook for publishing, tasks were accomplished with a minimum of fuss and a maximum of efficiency. It's hard to imagine our school without her. While we will miss her extraordinary work ethic, wry sense of humor, and impeccable character; her manner and actions serve as an inspiration to us all. We take solace in knowing that her incredible spirit lives on through her children, the lives of every student, staff member, and parent she touched and the memories we hold dear and will carry forward with us."
Funeral services will take place Friday, Aug. 4, at noon at Good Shepherd Catholic Church. Reception will follow at 2 p.m. at Chadwicks restaurant in Old Town, Alexandria. In lieu of flowers, the family asks for donations in Linda's memory be made to the Susan G. Komen Breast Cancer Foundation. Arrangements are under the direction of Demaine Funeral Home, Alexandria.