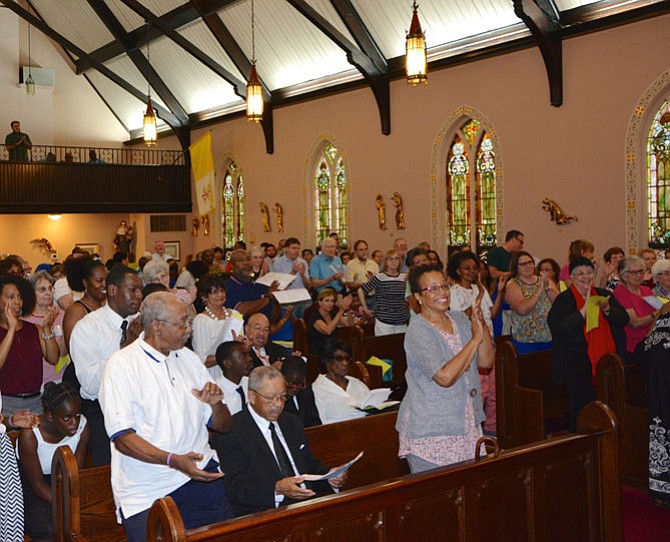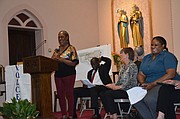 Last Tuesday VOICE, a faith-based coalition, packed St. Joseph's Catholic Church in order to convey its social justice interests to attending City Council members. We put forward an agenda around two particularly critical issues areas — affordable housing and public transit. On a summer weeknight, we thought we'd turn out maybe 100 people. More than 200 came.
"Seek the welfare of the city to which I have exiled you; pray for it to the Lord, for upon its welfare your own depends," said the Rev. Donald Fest of St. Joseph in his opening remarks, quoting the Old Testament prophet Jeremiah. "We're here tonight to speak to the welfare of this city … for upon it our own welfare depends. From the prophet Isaiah … 'No more shall there be heard the sound of weeping and the cries of distress. … No longer will they build houses and others live in them, or plant and others eat. … [My people] will long enjoy the work of their hands.' That has not been the case for many people of the city of Alexandria. … Our fight for equality and justice in Alexandria is far from done. For we hear 'the sound of weeping and the cry of distress,' as was heard at the time of the prophet Isaiah."
Fest described how gentrification has forced households to move away from the community around St. Joseph, a 102-year-old black Catholic parish. Gentrification also puts a heavy demand on congregations' ministries, as people require increasing assistance for food, rent, utilities and rental deposits. "This is not right. It is wrong," he said. He described how public transit shortcomings lopsidedly hurt lower-income people.
Kenia Walker, a resident of the Ramsey Homes public housing community, said: "I'm from this area, this is home. … Affordable housing … shouldn't mean a decision about paying your rent, buying groceries, having transportation, when you work hard."
Linda Harris, a Ramsey resident and Jefferson-Houston crossing guard, said: "I work every day with those children, I love them to death. And I would be so hurt" to be separated from them.
Jonathan Winters, an Alexandria resident and Metro technician, said: "I take pride in my job. I know a lot of times when you guys are on trains and buses that are broken down and hot cars, naturally you look for somebody to blame. And the ones you see are us, the frontline workers, not the people who actually make the decisions. The truth is, the system has been underfunded for 40 years." Yet the Washington Metropolitan Area Transit Authority (WMATA) currently proposes to address budget shortfalls in part by cutting services, privatizing jobs and reducing benefits.
Kevin Harris, president of the Alexandria Redevelopment and Housing Authority (ARHA) Residents' Association, and Jennifer Tolbert of the Old Presbyterian Meeting House, co-chaired the action.
Of the council members who attended, Willie Bailey and John Chapman committed their full support, and Justin Wilson and Tim Lovain their qualified support, for our housing asks, as outlined by the Rev. Robert Malm of Grace Episcopal Church: that Ramsey residents can remain in Old Town during and after redevelopment; that all 90 public housing units at Andrew Adkins be rebuilt onsite; that council and ARHA strengthen Resolution 830, a bilateral agreement to replace demolished public housing units one-for-one; and that council include at least $8 million housing subsidy in future city budgets. Wilson also committed to meet again with VOICE leaders and ARHA's new CEO to discuss these issues further.
"I am a product of low-income housing, affordable housing, and I was able to purchase a home. I called it that 'affordable escalator' that the city offered," said Bailey. "And now that escalator has slowed down and really probably stopped."
Wilson said he supports returning "more" than the slated 60 public housing units to Adkins but that the "brutal math" of economics is a constraint. However, I hope no one misconstrues the latter to mean that our present course is mathematically inevitable. The Request for Proposals for Adkins, and the developer's original proposal, included all 90 units. ARHA has chosen to offsite some units. The city and ARHA's doctrine of poverty "deconcentration" as a social good is empirically contestable. It, too, is a choice, and one that strikes me as being euphemistic.
Lovain said he's "nervous about pledges." But there is perhaps a fine line between pledges and mere planning. We rightly applauded council's recent decision to fund the Church of the Resurrection's affordable housing project. Still, that funding came only in the 11th hour of the budget process via an unrepeatable tax hike. The city's Housing Master Plan, contradicting other of Lovain's remarks, says the city's "best" tool is "a consistent, reliable source of annual funding."
"We indeed have much to celebrate, but we need a sustainable plan," said Resurrection's Betsy Faga. "The city must do its part by increasing its funding for affordable housing. We believe affordable housing funding belongs in the Capital Improvement [Program]," which earmarks monies up to 10 years in advance for all manner of other critical city investments.
Lovain, who sits on the Northern Virginia Transportation Commission (NVTC), committed to most of VOICE's immediate transit asks: to meet with Metro workers; to help enable VOICE leaders to brief the NVTC on an alternative plan for $1 billion in dedicated WMATA funding; and to push WMATA to disclose the analyses and assumptions underlying General Manager Paul Wiedefeld's current proposed budget. Lovain equivocated about supporting more affordable housing in new development on WMATA-owned land. VOICE also intends to pursue these asks with Councilman Paul Smedberg, a member of WMATA's board of directors.
The author, an Alexandria resident, is a member of VOICE and writes on faith issues for the Gazette Packet.