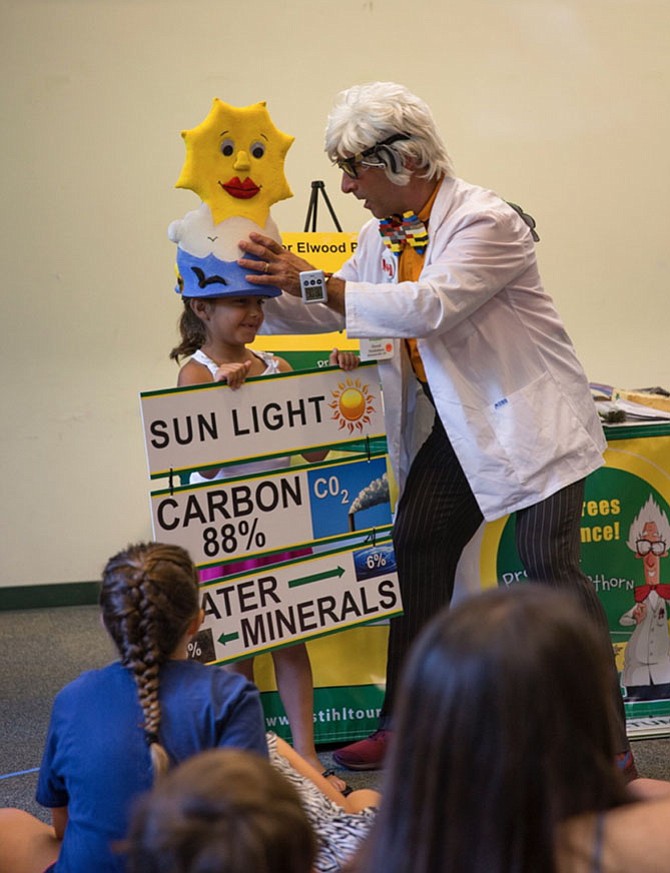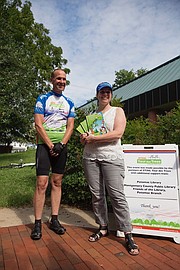 Potomac Library patrons were treated to a presentation on the importance of trees to the environment by Professor Elwood Pricklethorn on Wednesday, Aug. 2.
The interactive program by the Professor, a Canadian arborist also known as Warren Hoselton, was part of a weeklong series of events throughout the region in collaboration with the International Society of Arboriculture (ISA) Annual International Conference at the Gaylord National Resort and Convention Center in National Harbor.
Pricklethorn engaged his audience in a program about trees and how they help the world, said Tina Rawhouser, library manager.
"It seemed like a lot of fun," she said. "[The kids] were very actively participating, talking back and forth."
Pricklethorn, a veteran cyclist and fundraiser for tree research, considers trees "one of our most overlooked resource," according to a press release. He is especially interested in urban tree care and helps his audience see "beyond the bark," in understanding how trees grow and how they help our environment. At the library program he taught children how and where to plant trees for a long life and how to care for the trees around them.
At the end of his 45-minute presentation each child received a book about trees, courtesy of The Davy Tree Expert Company and the TREE Fund.
Professor Pricklethorn also presented the library with three copies of "I Can Name 50 Trees Today!" by Bonnie Worth, a Cat in the Hat book.
Earlier, the Potomac Library hosted more than 70 cyclists and their support team, the STIHL Tour de Trees, for a pit stop. The group was cycling in the D.C. area to raise awareness of the need for tree research and to raise funds for the Tree Research and Education Endowment Fund. The Tour, now in its 25th year, is TREE Fund's primary outreach and fundraising event with a 2017 fundraising goal of $310,000. The Aug. 2 ride went from Bethesda to Leesburg, Va. before heading back to the Gaylord National Resort and Convention Center, covering almost 100 miles with each cyclist riding for pledges to support the campaign.
Rawhouser said the Tour contacted her to see if they could use the library as a stop and present the talk by Professor Pricklethorn.
"The riders arrived between 9:30 and 10 and were gone by noon," she said. "I was glad the library could host the event."
Montgomery County Public Libraries and Friends of the Library Potomac Chapter provided snacks and drinks for the riders.