Alexandria — Todd Nedorostek enjoys two things in his life: taking care of trees and cycling.
The 42-year-old certified arborist of Alexandria participates in a fundraising event called Tour des Trees, which enables him to combine these two passions.
This August, he joined a group of 100 cyclists in Portland, trekked 585 miles in a week, during which they traced Oregon's coastline, desert and Columbia River Gorge, planted 20 trees symbolizing the significance of keeping urban trees and forests. It was Nedorostek's fourth tour.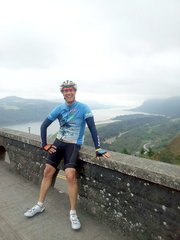 "What struck me most was the incredible vast environment that I was riding through," Nedorostek recalled. "I was out there, pedaling my bike. I felt free. It's a great way to see this country."
Before starting the tour, Nedorostek raised $3,500 (a minimum each participant commits to raise through a web page), which directly went to the Tree Research and Education Endowment Fund. As its largest fundraising event, Tour des Trees has raised more than $550,000 since 1992 to support tree research and increase public awareness for keeping trees and forests thriving. This year marks its 20th anniversary, and the 100 participants raised more than $520,000.
"We're trying to bring awareness of what we're doing," Nedorostek said. "It's critical for us as arborists."
As the district sales manager, Nedorostek has been working for the Care of Trees in the Alexandria office for 12 years. He communicates with clients, delivers tree care services and manages tree populations on properties. "My favorite part of this job is having the ability to work outside in the environment," he said. "And it's also very rewarding when you can help clients take care of their trees in a proactive way. It's more of educating clients about what they can do to help their trees grow. So trees can be sustainable for years to come, for generations to come."
Tree care is a dirty job, especially when the unpredictable happens. The severe storms that hit Northern Virginia this summer damaged many trees. Nedorostek's company stretched resources and tried to deliver services as fast as they could, but still couldn't respond to all requests. "It's depressing to see trees taken out by storms," he said. In another storm where a big tree fell down on a shed, he and his employees removed the tree, walked inside the muddy shed and pulled out the new bike for a little girl. "This is a little thing," he said. "But it meant a lot to her, so I felt good."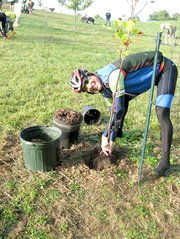 He grew up in Farmington, Conn., the youngest son in the family. He liked riding bicycles and climbing trees when he was little, his sister Carlene Nedorostek recalled. Later, he followed in the footsteps of his brother, Gary Nedorostek, who's also an arborist; he became fascinated by trees and botany since high school. He studied agriculture at the Stockbridge School of Agriculture, and went to the University of Massachusetts - Amherst and got a bachelor's degree in forestry. "Every tree is different," Nedorostek said. "Every situation is different. It's always challenging to work with the tree, assess what's going on with that tree, and how we can keep it growing. I enjoyed the science aspect of it."
After graduating from school, Nedorostek became a professional arborist who climbed trees for 12 years. He remembers the biggest tree he climbed was 80-foot, with a 60-foot spread. He remembers he used to spend all day working in a tree, sitting in it and eating his lunch. He remembers it's quiet up there, except for birds and squirrels. "It's kind of a peaceful experience," Nedorostek said. "I miss being up in the middle of a tree. It helps me get away from the hustle and bustle."
But he warns that climbing requires techniques and it's not for everybody. "It's not just climb up the ladder or a rope," he added. "Climbers need to be trained. There are many years of experience to get people to that level. It frustrates me every time when I see a list of people injured or killed in the industry because of failing to take safety measures. Safety is very important. We should be professional."
Nedorostek's seriousness to safety issue is also applied to his another passion — riding bicycles. Todd Nelson, one of his friends who works at Urban Forest Management in Fairfax County, considers Nedorostek a "riding coach." Nelson recalls when they cycle together on the weekend, Nedorostek always gives him advice on what to expect, how to react to emergencies and what to do if someone is riding behind. "He's dedicated to safety," Nelson said. "He's always demonstrating safety issues on a bicycle, at work, at home. To him, being not safe is absolutely unacceptable."
Nedorostek moved to Alexandria 12 years ago and started his current job. He planted about 15 trees in his backyard, including oaks, maples, a variety of ornamentals, apples and dogwoods. He provides certain type of maintenance to particular trees at the proper time of a year, and then watches them grow. "A tree is like a human," he said. "I try to manage them as best as I can."
Sometimes Nedorostek comes to Nelson's, helping him take care of his trees. "He's certainly compassionate about trees," Nelson said. "Although I have more trees than he does, the amount of work I do can't compare with what he provides to his trees. I'm jealous. It's very impressive."