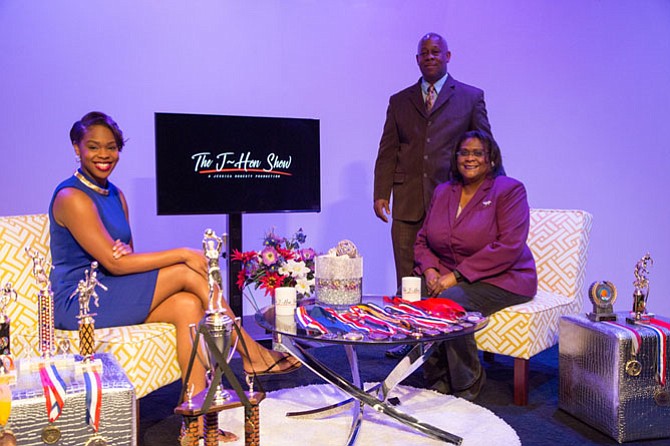 "I had zero experience when I started out in journalism, it's something of a passion when you take the time to do your own thing." — Jessica Honesty
Jessica Honesty, 30, former South Lakes and Westfield High student, now of Stafford, Va. went from playing basketball to anchoring her own community news and feature show at Fairfax Public Access. And she is not looking back. "I can't stop," she said.
"I had zero experience when I started out in journalism, it's something of a passion when you take the time to do your own thing."
She may have a degree in broadcast journalism, but her first real passion in life was playing basketball. "I've spent eight months here taking class, originally I was interested in sports, but this show is about versatility and community events in addition to sports," she said.
Honesty played basketball for 14 years and was drafted to play D1 on the college level. She played for South Lakes her freshman year and started as a sophomore at Westfield High school. Until she broke her foot playing as a senior.
"Once she was injured all of the schools started to turn away their offers," said her father Kenneth Honesty, 58, retired. "The phone calls just stopped coming in."
But her show continues to show signs of growth as she grows into her new passion — TV. She wants to be a TV host and personality.
"On Facebook I'm doing pretty well. We have 6,000 views on the teaser videos, and the show reaches 250,000 people around Fairfax county on TV."
At her height of basketball performance, she received a scholarship to East Carolina. There she discovered her passion for journalism and communications.
The newspapers used to call her "the Truth" as well as the announcer, and her other nickname was J-Hon, short for Jessica Honesty.
Her success at Fairfax Public Access has taught her a lot about perseverance in a job market and industry that is not forgiving or even helpful to newcomers.
"There's always something stopping you. I took from my high school basketball career that this is my dream, this is my passion. I will get that experience and keep going."
Pamela Honesty, 55, a staff accountant and Jessica's mother believes that the show has a positive message. "It's motivational for the kids with Jessica's sports background, and playing up to their expectations. It's a positive outcome."

The show runs about 10 times a month. So far she has produced four shows and has done all of the editing herself. Coming up she will feature Cornerstones of Reston. Also she will feature the Buffalo Soldiers, a community motorcycle group, with focus on positive impact.