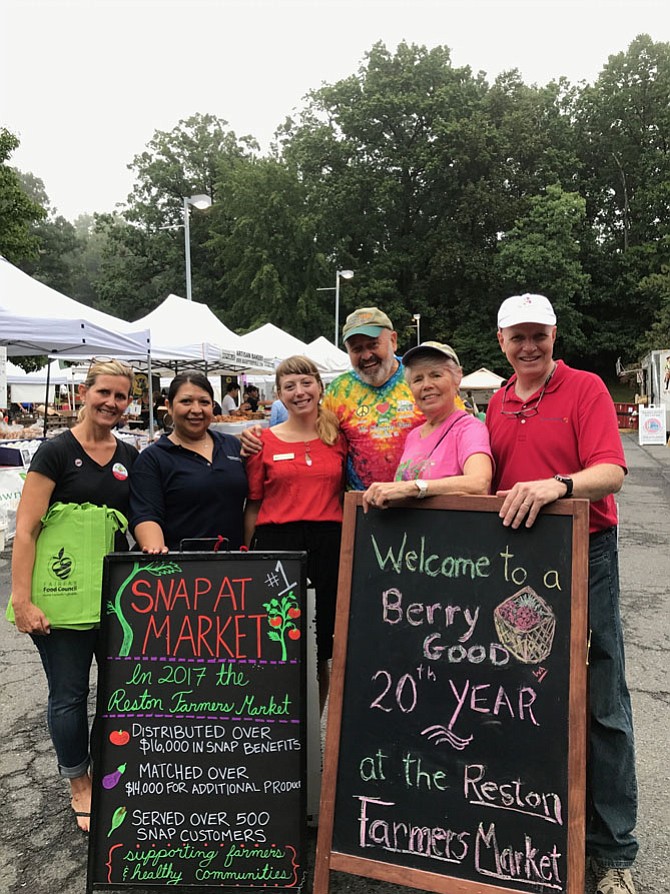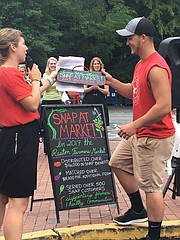 Although there are 8,600 farmers markets across the country, the Reston Farmers Market located at Lake Anne Plaza is drawing statewide attention. On Saturday, Aug. 12, the Fairfax County Park Authority helped Reston Farmers Market celebrate the 18th Annual National Farmers Market Week and the success of farmers markets across Fairfax County. While market-goers enjoyed the many special activities for the event — cooking demos, gift basket raffles, and educational information distribution — it was the words of keynote speakers highlighting the Supplemental Nutrition Assistance Program (SNAP, formerly Food Stamps) at Market, which drew attention.
IN OPENING REMARKS, Chelsea Roseberry, the Farmers Market coordinator for the Fairfax County Park Authority, drew attention to Reston Farmers Market's 20th season and acknowledged, "the extraordinary efforts of Market Managers Fran and John Lovaas for their tireless advocacy for the Reston Farmers Market."

Roseberry praised the market's "SNAP at Market program," an initiative that ensures the community's most vulnerable have protection against hunger and food insecurity. "Making fresh fruits and vegetables affordable is the mission of our program, and we do this by doubling the value of SNAP benefits each family has to spend at a farm market," she said.
Roseberry said the Reston Farmers Market boasts a record breaking SNAP at Market program, as it brings the opportunity for its low-income beneficiaries to access local, fresh, and nutritious fruits and vegetables at $1 to $1 match, doubling their buying power up to $20. Roseberry cited that as of July, Reston Farmers Market's SNAP at Market program had served nearly 500 customers and distributed more than $30,000 in SNAP benefits.
Sara Leonard, board chair of Cornerstones, provided additional credence to the reported statistics. "This is nearly one-half of the total amount of SNAP benefits redeemed in all Virginia markets to date," Leonard said.
Rodney Taylor is the director of Food and Nutrition Services for Fairfax County Schools and a member of the Fairfax Food Council that works to promote healthy food access. He described the impact of healthy food access on students' academic performance. "This improves student eating habits and health, which maximizes the opportunities for student academic and extracurricular success," he said.
Vice Mayor of Herndon Jennifer Baker said the Herndon Farmers Market (open Thursdays, April - Nov. 9, 8 a.m.- 12:30 p.m.) also offers the SNAP at Market program. Baker praised public-private organizations for forming partnerships to help end childhood hunger, mentioning the Town of Herndon, county and school partners, faith communities, local non-profits including Herndon-Reston FISH and Cornerstones.
Speaking after the event, Roseberry acknowledged one of the reasons the Reston Farmers Market SNAP at Market program is so successful is because of Cornerstones. "They get people to come to the market and get people signed up for benefits."
Bill Threlkeld cited additional reasons. "The Reston Farmers Market has some great success because it is a Saturday morning market, surrounded by communities with both low and high income, and has access to public transportation. These elements, together with some marketing and word-of-mouth, have energized the Reston Farmers Market with SNAP participation."
FOR MORE INFORMATION about the SNAP at Market program at the four Fairfax County Park run markets – Reston, Herndon, Lorton and McCutcheon/MV – visit fairfaxcounty.gov/mountvernon/documents/2016_town_meeting/2016_market.pdf and for the six Community Foodworks farmers markets in Reston, Chantilly, Huntington, Oakton, Springfield, and Tysons, as well those in D.C. and Arlington, contact csinger@cfwdc.org