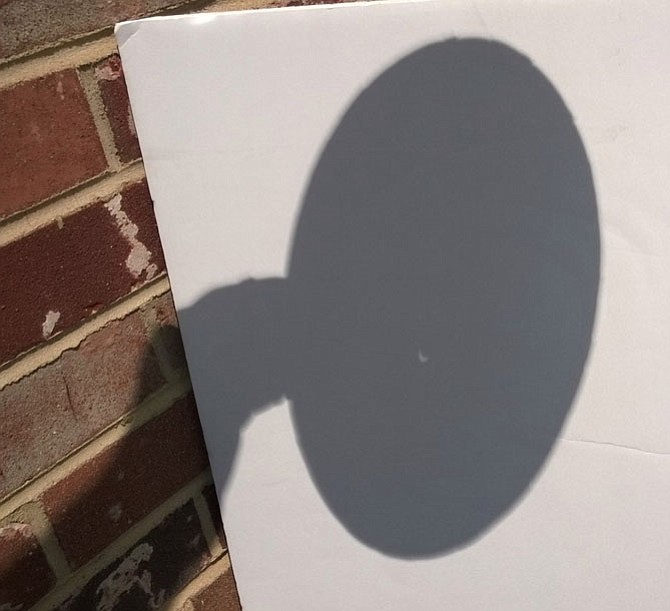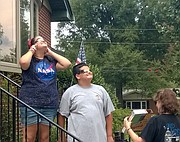 "It's so stinkin' cool" exclaims Deb Hertz, 58, Monday afternoon as she witnesses the "Great American Eclipse" in Fairfax through special sunglasses she borrows from a local teenager.
Shelby Gardner, 13, looks up and agrees.
"It's stunning," she sighs.
The heavens applaud at 2:36 p.m. with a clap of thunder as storm clouds close-in on the celestial event of a lifetime and help dim the bright afternoon sky.
"I thought I'd be watching it on TV," Shelby admitted. She was disappointed by the news last week eyewear certified for safe viewing was sold out nationwide.
However, her dad drove to Chantilly early Monday morning to be at the Smithsonian National Air and Space Museum annex when it opened to distribute a limited supply of NASA-approved eclipse glasses with special-purpose solar filters.
Thomas Gardner, 48, arrived at the Steven F. Udvar-Hazy Center in the nick of time to enjoy a 30-minute grace period when the center waived its $15 parking fee. He believes he scored the last two pair of 2,500 eclipse glasses distributed free of charge to the general public.
On his way to work in Vienna, the hard-working dad returned to Fairfax and delivered these priceless safety goggles to his kids as a remedy for their eclipse fever — which kept them home during the last week of their summer vacation.
His daughter totally appreciates his effort to go the extra mile, so she and her brothers can spend nearly two whole minutes looking at a partial solar eclipse: "He's an awesome dad. We couldn't ask for anyone better!"
At 2:42 p.m., clouds covered the sky as the shadow of the moon quickly dimmed what was a bright afternoon just minutes earlier.
This is the time astronomers predict the height of the partial eclipse occurs in Washington, D.C. — where the moon blocked 82 percent of the sun from view, according to the National Air and Space Museum.
This is the time Shelby notices the gravitas of a rare astronomical event some people witness only once in a lifetime.
"The moment feels really heavy," she said. "It carries weight."
At 2:49 p.m., the sky grew brighter, light rain followed a flash of lightning as thunderstorms declared break time was over and worked their way across Northern Virginia toward Washington and Maryland.
Astronomy educator Shauna Edson states on her Aug. 17 blog "Beyond Totality: Appreciating the Partial Eclipse," — at airandspace.si.edu — another total solar eclipse will cross North America from Mexico to Maine in seven years. Mark your calendars for Monday, April 8, 2024.