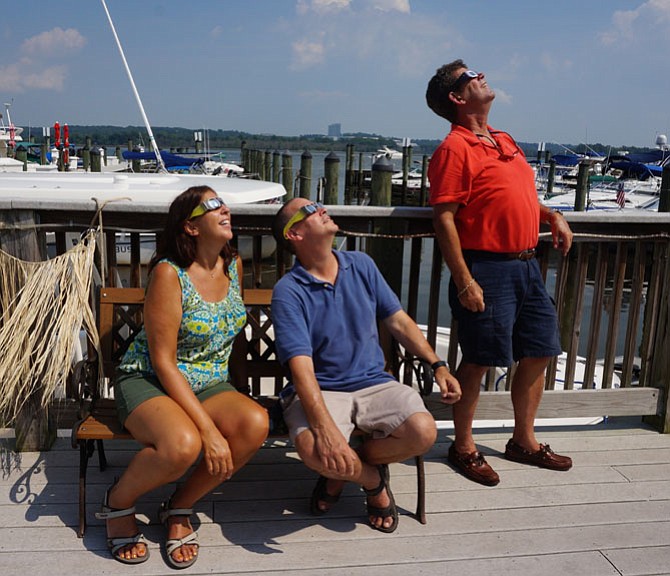 Alexandria — They came prepared. Armed with certified eclipse glasses or homemade
"Even without being in the path of totality, it was spectacular witnessing this phenomenon."
— Richard Taubner
viewers, crowds took to the streets, parks and rooftops across the city Aug. 21 for a glimpse of what was billed as the Great American Eclipse.
"It was the chance of a lifetime to experience this event," said Elle Taubner who joined eclipse watchers along the Alexandria waterfront. "I wasn't sure what to expect but it was exciting to take time out of the day to witness this."
Traveling at about 1,500 miles an hour, the moon's shadow cut a 70-mile
swath across the country in the first total eclipse of the sun in nearly a century to traverse the U.S. from coast to coast.
While not in the path of totality, Alexandrians were able to witness a partial eclipse, with about 81 percent of the sun being obscured as the moon passed between the sun and Earth. Locally, the eclipse began at 1:17 p.m., reached its peak at 2:24 p.m. and ended at 4:01 p.m.
"I'm glad we had the glasses to see and experience this properly," added Richard Tauber. "That allowed us to be able to watch the eclipse in its entirety."
At Jones Point Park, members of Cub Scout Pack 129 gathered to watch the eclipse.
"This is pretty exciting," said 9-year-old Chase Green, a third-grader at Charles Barrett Elementary School who was joined by his younger brothers Pierce, 7, and Finn, 6. "We made our own viewing box to see the eclipse."
Elle Taubner was surprised by what didn't happen as the eclipse peaked, revealing the corona, or halo of gas surrounding the sun.
"I expected it to get darker and cooler," she said. "It's amazing to realize how much heat and light even just 19 percent of the sun still gives off."
The next total solar eclipse in the U.S. will sweep from Texas to Maine on April 8, 2024.
"I'm glad we took time out to be here," said Richard Tauber, who was visiting Alexandria from Scotia, N.Y. "Even without being in the path of totality, it was spectacular witnessing this phenomenon."