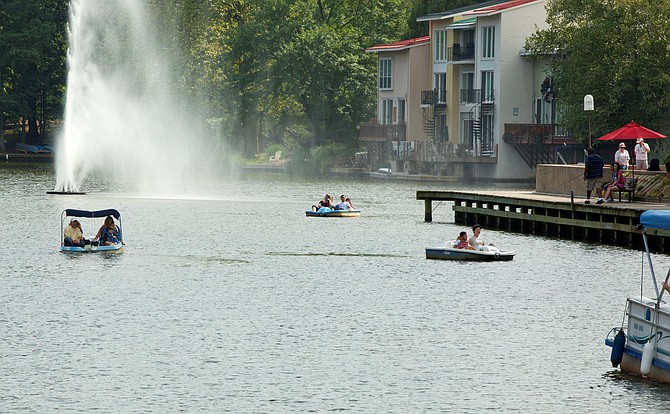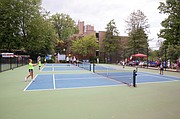 Reston is a different kind of place. One of the many aspects that sets our community apart is how it was developed, and how it operates.

Reston is not a town in the conventional sense. Reston has no mayor, nor a "town hall" for centralized lines of communication and services. Without a traditional municipal government, it can be baffling to newcomers and confusing to long-term residents as well, as there is no "one place" for all information about the community.
When he purchased the land that is Reston in the early 1960s, Robert E. Simon, Jr. (c.1914-2015, Bob, our founder and the "R E S" in Reston,) established "Seven Goals for the New Town." His vision for creating a community where people could live, work, and play was well ahead of its time, and today's developers try to follow Bob's success. Reston is fortunate to have a wide range of amenities, choices, and the opportunity to be involved through volunteerism, but with these privileges comes the obligation to be informed.
County of Fairfax: Reston's Infrastructure
Reston is identified as a PRC – Planned Residential Community – within the County of Fairfax to which our property taxes are paid for standard needs. Police, public education, roads, water, sewers, and recycling/trash transfer are just some of the services funded by tax dollars paid by property owners and businesses everywhere in Fairfax County, which governs Reston, represented by the Hunter Mill District Supervisor.
Also under the auspices of Fairfax County is Reston Community Center (RCC) which offers two centers for indoor recreation and entertainment at Lake Anne and Hunters Woods, plus programming at other Reston venues. RCC is supported by additional county funding paid by every Reston property owner and business in Small Tax District #5.
Reston Association
In addition to annual county taxes, most Reston property owners pay annual dues to Reston Association (RA), the leadership organization that serves the majority of owners and renters within the approximate 6,800 acres of the community. RA manages 1,700 acres of Reston's open spaces, lakes, forests, outdoor recreation areas including pools and tennis courts, and 55 miles of trails that are a treasured community amenity. RA produces a wonderful map, available in print and online, showing all the roads, trails, village centers, recreation facilities, public art, and more.
RA comprised its members, approximately 90 employees, and an elected, volunteer Board of Directors who oversee the administration. All owners and renters within RA can participate in the annual elections. RA also has a variety of volunteer advisory committees spanning a range of interests that provide meaningful participation and assist staff with ongoing and new directives.

RA operates with a Deed of Dedication. To maintain a spirit of cooperation that neighborhoods can rely on, the RA Deed has covenants adhering to values of sustainability and exterior property standards. For instance, the "Reston palette" ensures a cohesive appearance throughout the community and makes choices easier for owners when refreshing their properties. For owners considering changes to their properties, RA's Design Review Board provides guidance in its assessment of the plans.

RA also provides acclaimed summer day camps, year-round activities and events, programs for all ages, and more. RA's extensive programs and services are on their website – which also lists all other government services and contacts – and you can also learn more by visiting Member Services during business hours, or e-mail member_services@reston.org, or call 703-435-6530.
Beyond Reston Association, There's More
Within the jurisdiction of RA are clusters, which are delineated neighborhoods managed by volunteer boards who oversee their common areas, rules, and guidelines to uphold property standards. For services and maintenance, cluster residents pay annual fees in addition to RA dues.
Outside of the purview of RA is the urban core of Reston Town Center. It is part of the PRC, as planned, under Fairfax County governance, but it is managed separately by Reston Town Center Association.

Local News
The best way to stay in the know about the community is by reading Reston's variety of print and online media sources, including the Reston Connection in print or online. News from Reston Association is distributed in various ways, such as the weekly RA News that is delivered to thousands of email addresses every Friday, To subscribe, "Join Our Mailing List" on the Home page of Reston.org. RA also publishes Reston Magazine, which includes articles about the community and the latest information on programs, recreation, and facilities, delivered to every RA household each quarter. Learn more about these and other special interest publications at Reston.org, or enquire at Member Services at the headquarters of Reston Association, 12001 Sunrise Valley Drive, Reston.
Want to Know More?
See the "Local Organizations" page on Reston.org, and visit these websites that provide local information:
FairfaxCounty.gov: Public works and services
LINKinfo.org: Public transportation information for Reston
RestonChamber.org: Business community membership
Reston Citizens Association: Est. 1967 to promote and protect Reston's planning ideals
Reston.org: Reston Association property owners and tenants
RestonCommunityCenter.com: County-operated indoor recreation and programming
RestonMuseum.org: Reston's history
RestonTC.org: Urban core property management
RestonTownCenter.com: Urban core shopping, dining, events
VirginiaDOT.org: Reston's public roads
— Compiled by members of the Community Engagement Advisory Committee for Reston Association