Reston — That's "experience" in more than one sense of the word; "experience" in that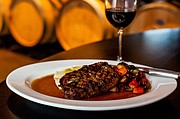 the Cooper's Hawk Winery and Restaurant that officially opened on Monday, Aug. 28, will be the company's 30th location, so they probably know a thing or two about the business, and because a real winery "experience" – with "fantastic food" is what General Manager Ryan Delisi says the establishment is all about.
Delisi, Cooper's Hawk Marketing Manager Ami Vanderhoof, and Executive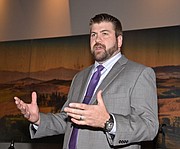 Kitchen Manager and culinary training guru Edmund Vogel hosted a "sneak peak" event the Thursday before the opening date.
What's the first thing you notice when you walk through the doors? Space!
With most restaurants, diners enter a crowded "holding area" – either smashed up against the hostess desk, or herded into an overcrowded bar, usually right off the front entrance. At Cooper's Hawk, the hostess stand is located at the end of a modern, light-filled grand hall, where the "Napa Valley" feel is front and center, with the Tasting Bar on the right, running the length of the room.
Getting to the hostess stand is a pleasant adventure. First you have to pass through the artisanal gift shop area – wine-themed items, of course – and a glass cabinet featuring an array of their made-from-scratch truffle temptations. Surrounding you the whole way are wall-to-wall wine racks displaying Cooper Hawk's collection of wines – the only wines they sell or pour.
THE HOSTESS tells you there's a 30-minute wait (you forgot to make a reservation), but who cares? Instead of cramming onto a little bench, or fighting your way to a spot at the bar, you get to happily wander that hall, checking out unique wine glasses, aerators, decanters, even handbags made with cork, while actually able to talk with your dinner companion(s). But avoid those truffles. Save them for dessert.
While you're waiting – or "just because" – step up to that tasting counter. A mere $7 will get you a generous tasting of a variety of wines. If you've tried the wine before hand, there'll be no disappointment that's it's "just not to your liking" when you order a bottle at the table.
Cooper's Hawk founder, Tim McEnery, opened the first location in suburban Chicago in 2005. According to the Cooper's Hawk staff, the idea came to him when dining, after visiting a winery. McEnery wished that there had been a real food offering at the winery, not just the usual plate of crackers. A little more thinking, a lot of research, and the concept of Cooper's Hawk, "the passionate belief that food and wine hold the power to forge lasting connections," was underway.
As Executive Kitchen Manager Vogel explained during the menu sampling, the Cooper's Hawk folks do things in the reverse-than-usual order. Instead of finding a wine to complement the food, their mission is to invent recipes that pair with their wines.
That must have been a challenging task, since the company produces 50 different varieties, from sweet whites to super Tuscan reds, from light every-day bottles to higher-priced and more complex offerings from their "Lux Collection." They even have sparkling wines, and home-made sangrias. The grapes come from select partnerships around the country and now, even internationally, but the winemaking is done by Cooper's Hawk at their Chicago location.
"Actually, we are growing so much, that we need to move house," said marketing manager Vanderhoof. In a few months, Cooper's Hawk operations will move to a larger facility in Woodridge, Ill. When you're the fifth largest winemakers in the country outside of California, you need a bit of room to get the job done.
AFTER TASTING Candied Bacon and Artisan Cheeses as the appetizers, followed by Crispy Brussels Sprouts, and entrées like Shrimp and Scallop Risotto, Pan-Roasted Barramundi fish, Gnocchi Carbonara and Ginger Soy Glazed NY Strip, all with their paired sparkling wines, Cabernet Zinfandels, Moscato, Chardonnays and Lux Cabernet Sauvignon, the sneak-peakers agreed: culinary mission accomplished.
Oh. Don't forget that dessert. Proprietary chocolate cake with "Nightjar" wine, and Lemon Ice Wine Cheesecake with Ice wine.
In addition to the tasting room delights and the culinary creations, Cooper's Hawk offers a Wine Club membership. "We think it's an incredible deal," said Vanderhoof. There's no long-term commitments, and members can sign up for a one or two bottle per month deal, both of which include loyalty rewards, discounts, and access to members only events and activities.
There's plenty of seating at Cooper's Hawk — 196 seats indoors, and an additional 146 on the wrap-around patio, a large bar area, and a private dining room for special occasions and meetings. They also offer a comprehensive catering service.
"And don't forget, we will have a Happy Hour on weekdays and complimentary
If you go…
COOPER'S HAWK Winery and Restaurant is located at 12130 Sunset Hills Road in Reston, serving lunch and dinner – and those tastings – seven days a week, starting at 11 a.m. Check out the website at http://www.cooper...">www.coopershawkwi....
valet parking on weekend evenings," GM Delisi reminded his guests. "Maybe the best thing we offer," he added, is a place that's welcoming. We are not interested in the 'turn and burn.' Take your time, and enjoy yourselves. That's what the Cooper's Hawk community is really all about."