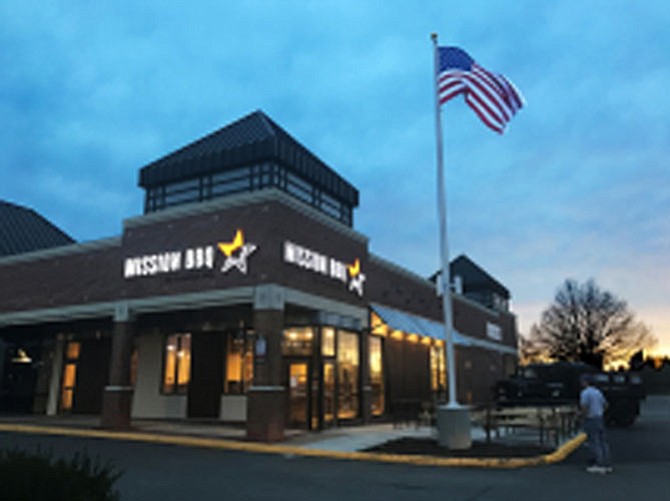 Centreville — As summer wanes, folks may switch from dreams of outdoor grilling and
Details
Mission BBQ
13067-J Lee Jackson Memorial Highway, Chantilly
571-325-0975.
Lunch and dinner daily.
barbecue to bowls of hot chili or beef stew. But wait: the delectable charm of barbecued meats is not a seasonal treat. And if your passion for pulled pork, chopped brisket, tender and smoky ribs, and robust sides of beans or mac-n-cheese never ends, you do have a second home: Mission BBQ.
A rapidly expanding private company with numerous eateries in the metro area, Mission BBQ has an underlying mission. Besides treating customer in for sublime eats, the underlying focus of this Glen Burnie-based company is to honor our servicemen, be it from Armed Forces to police officers — all who serve our country with pride. (visit https://www.facebook.com/missionbbqtheamericanway/). You know you have arrived at one of its restaurant when you spot an enormous Army vehicle parked nearby. And indoors, the setting's walls show military-focused pictures, so the message is clear: all American and all supporting heroes.
With its mission quite open and public, the owners do have a secondary goal: serve the best barbecue goodies cooks can smoke and then serve up. And succeed they do. As you wait in line to order from the upfront counter, you have plenty of time to read the overhead menu board. Smoky aromas may be surrounding you, tempting you to order one of everything on the menu, and maybe even six of the unlisted banana pudding, if it is available.
Although it is not actually listed as an appetizer, one hot way to kick off the meal is with one order of the jalapeño and cheese sausage. Then to pair with your main course, consider a plain greens salad, or for heftier eats, a side of mac-n-cheese, green beans with bacon, cold slaw, or fries.
But the big decision comes next: go whole hog (will literally half hog) with an order of baby back or regular spare ribs (St. Louis style), or focus on a smaller treat: a sandwich of pulled pork, brisket or chopped brisket, pulled chicken, or turkey. Note that all sandwiches look like they are heaped up on buns in a gooey sort of way. But if you are a spare ribs kind of person, these are killer good: tender, smoked, well-seasoned, and some of the best in town.
If you do not have time to sit at one of the communal tables to eat, you can easily carry out. And if you are in the party mood, Mission BBQ offers reasonably priced party pick-up packs to serve 10 or more. These include your choices of meats (not ribs), sides, baked goods, and sauces.
In the end, foodies will likely declare Mission BBQ fulfills several: honoring servicemen and women and the police, and feeding barbecue fans. Those are their missions ….