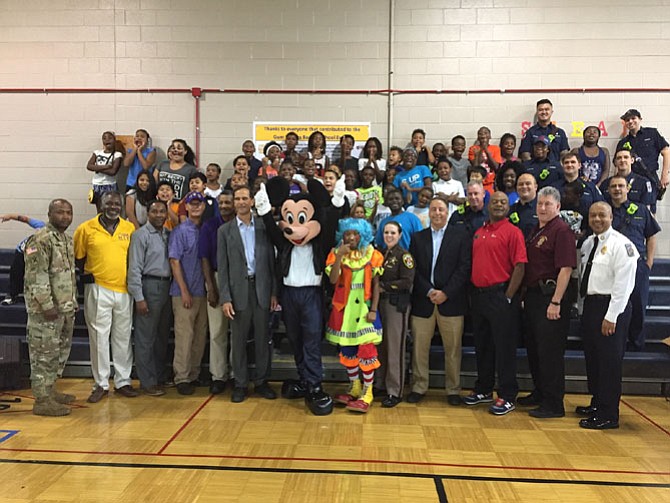 Mount Vernon — Fairfax County organizations combined forces Aug. 23 for a Community Day at
"We wanted to make sure the kids start off the school year looking good, feeling good and with the needed school supplies so that they will do good."
— Community Day Organizer Willie Bailey
Gum Springs Community Center, providing free haircuts, backpacks and school supplies for boys and girls to prepare them for the upcoming school year.
"This was the largest event we have had at the center," said Battalion Chief Willie Bailey. "This year we made sure to invite families from the neighborhood and not just kids attending the community center. We gave away over 250 backpacks and nearly 100 free haircuts."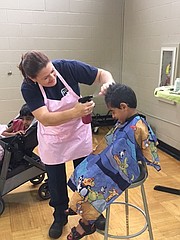 The event was sponsored by the following partners: Fairfax County Fire and Rescue Department; Progressive Firefighters of Fairfax County; Fairfax County Police Department; Fairfax County Sheriff's Office; Gum Springs Community Center Advisory Board; Communities of Trust; Apple Federal Credit Union; Mission BBQ; Firefighters and Friends to the Rescue; Local 2068, Supervisor Dan Storck's District Office; ICNA VA Islamic Center; Omega Psi Phi Fraternity, Psi Alpha Alpha Chapter; and Whole Foods.
"As always, not only were we preparing the kids for the upcoming school year but we made it a fun day for them," Bailey added. "We provided clowns, Mickey Mouse, McGruff the Crime Dog, face painting, and a police helicopter and public safety vehicles to view."
Participating local barbers that donated services to the event included: Marvin's Barbershop, Ladies & Gents Hair Studio, Pulse Hair Studio, Sport Clips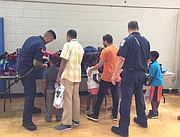 and Spectrum Beauty Academy.
"We wanted to make sure the kids start off the school year looking good, feeling good and with the needed school supplies so that they will do good," Bailey said.