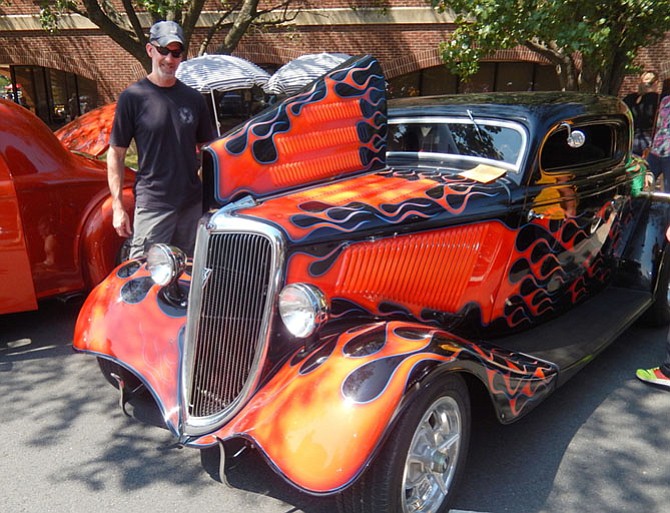 The City of Fairfax offers entertaining events for the whole family, all year 'round. And last year's Labor Day Car Show proved such a huge success that it's returning for a second year. The fun also includes music provided by a deejay, a noontime ceremony, food, awards – and an appearance by the coach of the Washington Capitals.
Put on jointly by the City and the Clifton Lions Club, it will be held Monday, Sept. 4, from 8 a.m. to 3 p.m., on University Drive between Armstrong Street and Sager Avenue, and in the SunTrust Bank parking lot at 4020 University Drive. University Drive in that area will be closed to traffic that day from 6 a.m.-4 p.m.
It's the Lions Club's 18th annual car show, and it always draws large crowds. This free event features nearly every kind of vehicle imaginable, including antique cars from the 1920s and '30s, classic and custom cars, hot rods from the 1940s and '50s, muscle cars like Corvettes and Mustangs, foreign cars such as Bentleys, and even trucks and motorcycles. Register vehicles for the show at www.labordaycarshow.org or at Fire Station 3 at 4081 University Drive, the day of the show, from 6 a.m.-noon.
Furthermore, the car show also raises money for two, worthy causes. While entry and parking are free, donations are accepted – and proceeds will benefit the Northern Virginia Therapeutic Riding Program and Inova Hospital System's Life with Cancer.
"We hope to raise $30,000," said event organizer Jim Chesley, of the Clifton Lions Club. "That's because, in the past 17 years, we've raised and given $370,000 to local charities – so I'm hoping to hit $400,000 this year. The only year we donated to something nonlocal was when we gave $30,000 to the [Hurricane] Katrina victims."
IN THE PAST eight or nine years, the bulk of the show's proceeds have gone to Life with Cancer and the Northern Virginia Therapeutic Riding Program. "We've been able to give them a minimum of $10,000 each, and I'm hoping to up it this year," said Chesley. "We're all volunteers, so every cent raised goes to charity."
Proceeds also benefit the Fairfax County Police Family Trust Fund for families of slain officers, plus American Legion Post 177, Fire Station 3, Kena Shriners, Masonic Lodge of Clifton, and Marine Technology, which trains future auto mechanics.
More than 300 cars were on display during last year's show, but there's room for 475 vehicles. "It all depends on the weather," said Chesley. "If it's good like last year, we're expecting 400 cars, trucks and motorcycles. We also had 5,000 spectators and, if the weather cooperates, I expect that number to increase, too. But the show goes on, rain or shine."
A special, noontime ceremony at the fire station will feature the American Legion Post 177 Color Guard. Angela Knight – who sings at The Kennedy Center and at Washington Nationals baseball games – will sing the National Anthem.
And when attendees get hungry or thirsty, they'll have several options. Lions Club members will be cooking and selling grilled hot dogs and hamburgers, and Hard Times Café will host an outside beer garden. In addition, restaurants in Old Town Fairfax will be open, and discount coupons for some of them will be available via www.fairfaxva.gov, at the car-show website, at the show's information desk (at the fire station) and in the event program.
The car show moved last year from its previous location in Clifton to the City of Fairfax so it could grow in both participants and spectators. And that's important, said Chesley, because "The more money we raise, the more money we can give to the kids helped by the charities."
"We were received warmly by the City of Fairfax, which worked quite well with us," he continued. "I couldn't have asked for better help; and this year, they're doing even more. They produced an event map and we put it up on our website, www.labordaycarshow.org. We expect more City of Fairfax business participation this year, too, and some of the auto dealerships will bring new cars to the show." He's also met regularly, throughout the summer, with City Councilman Jeff Greenfield, City Manager Bob Sisson and Cultural Arts and Marketing Director Jo Ormesher to work out all the show details.
There's even a big surprise for Caps hockey fans. Six months ago, Chesley met Coach Barry Trotz at a Therapeutic Riding event, told him about the car show and invited him to come. Trotz recently told Chesley he'll be there and hopes to bring some of his players, too. So car-show attendees will be able to meet them at a table in front of the fire station. And there may possibly be a silent auction of NASCAR and Washington Redskins memorabilia.
A TOTAL OF 30 TROPHIES will be awarded, with judging done in front of the fire station. The participants will vote on the top 20 cars, plus Best of Show. There'll also be Mayor's and Ladies' Choice trophies, one for Best Motorcycle and a Buddy Morrissette Memorial Trophy chosen by his family.
"Buddy helped me with this show for years – financially, too," said Chesley. "He died in December 2016. He supported good causes everywhere and was a great guy."
The nearest Labor Day car show is 150 miles away, so Chesley hopes for a good turnout. He also wants to help as many children as possible. "My passion in life has always been cars," he explained. "And the fact that this show can help people who need it is wonderful. It's a great thing, and that's why I do it each year."
He said attendees "will see the beautiful cars that people bring, meet the coach of the Capitals and have a fun day – and it's free. And it's not just an antique car or hot-rod show. Ours has vehicles of all kinds, so there's something for everybody – and I guarantee they'll have a good time."