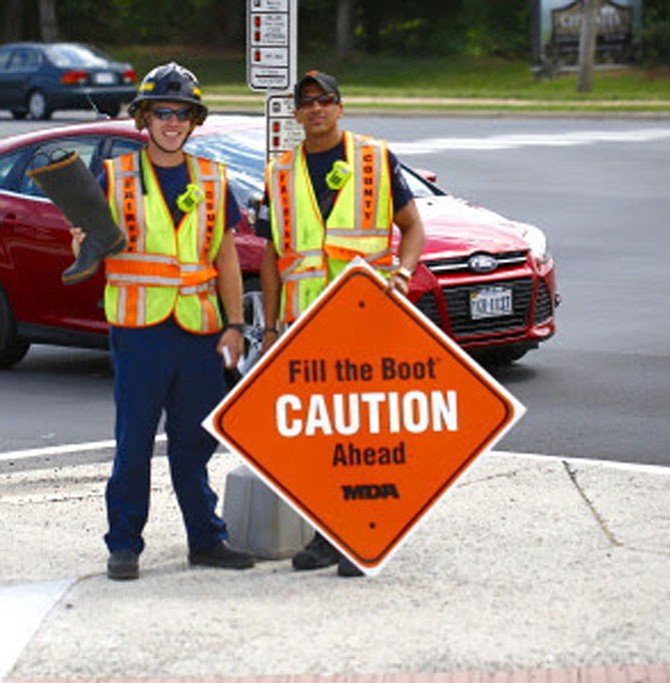 Labor Day Weekend is almost here, which means that Fairfax County Fire and Rescue Department (FCFRD) personnel will once again be conducting the Fill the Boot campaign benefiting the Greater Washington Muscular Dystrophy Association (MDA). This Friday, Sept. 1 through Monday, Sept. 4, watch out for uniformed firefighters with fire apparatus on display at controlled intersections all over Fairfax County and help us Fill the Boot! Last year we led the United States and Canada collecting $521,509!
Your Fairfax County Firefighters will be hosting an official campaign Kick Off on Thursday, Aug. 31 at 11 a.m. at Fire Station 5 - Franconia.
Every Labor Day Weekend for more than 35 years, firefighters have been at controlled intersections all over Fairfax County asking motorists and pedestrians to Fill the Boot — 100 percent of the donations collected go directly to the Greater Washington MDA that assist families in the Washington, D.C. area living with some of the 43 neuromuscular diseases. Thanks to the generous donations of the citizens and visitors, the personnel of FCFRD, Department of Public Safety Communications and IAFF Local 2068 have been honored to be the highest collecting municipality in the United States and Canada for eight of the last 10 years. We also could not do this without the Fairfax County Fire and Rescue Retirement Association and Fairfax County Police Department who provide important support behind the scenes.
Greater Washington MDA uses these donations to help fund such items as:
The annual week long MDA Children's Summer Camp where children from 6 to 17 years old can have a "typical" camp experience with their peers. They enjoy swimming, boating, zip line, crafts, a talent show and many other activities all tailored to their specific disability. This week also provides a respite for the families from the sometimes 24 hour a day job of caring for a special needs child. This camp is provided free of charge for the families.

The MDA clinic at Georgetown University Hospital and Children's National Medical Center. This "one stop shop" allows those with neuromuscular disease to see all of their specialists, such as their cardiologist, neurologist, pulmonologist, occupational therapist and many others in one location. This alleviates the need to make appointments and travel throughout the Washington, D.C. area to the many medical professionals that they see on a regular basis.

Research at the National Institutes of Health and Georgetown University, so, one day, we will not need to Fill the Boot again!

Programs designed to help people with neuromuscular disease live, go to school and work independently.
Joel Kobersteen is Coordinator - Fairfax County Fill the Boot Campaign.