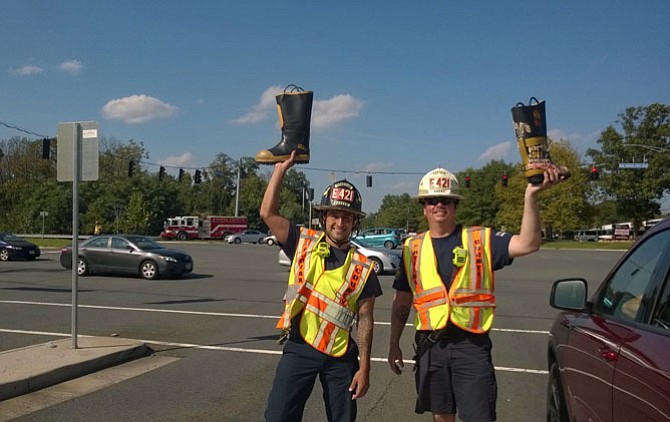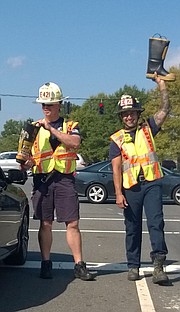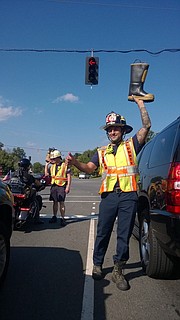 On any given day, the concrete median along Waples Mill Road at its intersection with Lee Jackson Memorial Highway in Fairfax is the place where individuals faced with personal hardship muster the courage to ask for financial help from kind-hearted motorists stopped at this red light.
They yielded this spot Labor Day weekend to local firefighters — who hit the pavement and braved oncoming traffic to raise money for kids and adults not strong enough to help themselves in their struggle to move forward each day with muscular dystrophy.
At 4 p.m. Monday, Fairfax County Fire and Rescue Capt. Matthew C. Burns and Master Technician Johnathan Macquilliam walk past 10 or more cars, trucks and motorcycles that roll up to this intersection and stop a minute or two — long enough for drivers and passengers to become first responders for a moment and participate in the annual "Fill the Boot" campaign for the Muscular Dystrophy Association.
BURNS AND MACQUILLIAM belong to a team of 12 firefighters from Station 21 in Fair Oaks, who raised $3,157.84 Labor Day Monday for MDA Greater Washington, D.C.
Their colleagues stand and walk in the middle of U.S. Route 50 and down the street at Jermantown Road. They hold their boots high and flash a smile to the people they pledge to serve during an emergency call. Generous motorists respond throughout the four-day weekend with immediate aid to stuff the boots of Station 21 with $14,200.12.
"Crews have been out ever since Friday," says Burns, who is the station commander. "Even in the rain," he adds.
Area residents got a taste of Hurricane Harvey Saturday after it weakened over southern portions of the United States then dropped rain all day on Virginia, the District of Columbia and Maryland on its way offshore.
Master Technician Joel Kobersteen of Station 40 in Fairfax Center is the "Fill the Boot" coordinator for the entire county. He is a former firefighter in Houston and says this year's fund-raiser also helps his Texas colleagues — who are battling storm fatigue while they help other Hurricane Harvey survivors. As soon as their shifts are over, first responders have to deal with their own personal losses, he mentions.
Kobersteen says the International Association of Firefighters Local 2068 struck a deal with MDA Greater Washington, D.C., to help more than 75 Houston firefighters who lost their homes and personal belongings to the flood while they rescued victims last week and saved lives.
If that's not enough human suffering, the National Hurricane Center is tracking a powerful Category 5 storm called Irma as it pushes through the Caribbean. Tuesday night, weather forecasters say Irma may hit South Florida Sunday evening as a Category 4 hurricane.
THE FIRST $50,000 raised in this year's "Fill the Boot" campaign goes to the IAFF disaster relief fund. The next $500,000 is earmarked locally for the MDA Greater Washington, D.C. Any surplus benefits the union's disaster relief fund, Kobersteen explains.
According to his preliminary figures Tuesday afternoon, the Fairfax County Fire and Rescue Department has raised $626,736.05 Friday through Monday. Kobersteen is waiting for complete numbers from all 38 fire stations and other support systems, such as the 911 call center.
Officials at the Muscular Dystrophy Association in Chicago say it will take several days to gather financial figures from all "Fill the Boot" campaign coordinators nationwide.
Muscular dystrophy is an umbrella term for several neuromuscular diseases — such as amyotrophic lateral sclerosis, also known as ALS or Lou Gehrig's Disease. Learn more about muscular dystrophy and how it helps survivors at www.mda.org.
Find information about the IAFF disaster relief fund at www.iaff.org.