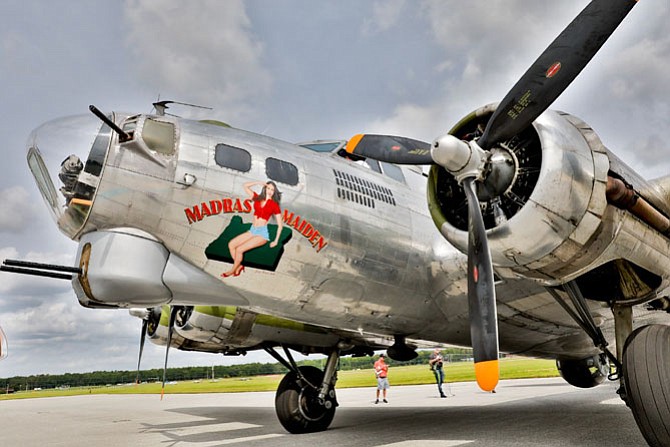 Alexandria — The World War II Boeing B-17 Flying Fortress "Madras Maiden," one of only 12
"Other battlefields have their monuments and memorials but you can never return to the battlefield of the sky."
— Liberty Foundation Pilot Bob Hill
B-17s still flying today, will take to the skies over Baltimore in its closest stop to Alexandria in the Liberty Foundation's 2017 Salute to Veterans Tour.
Dubbed the "Flying Fortress" as a result of her defensive fire power, the B-17 saw action in every theater of operation during WWII. There were 12,732 B-17's produced between 1935 and 1945, of these 4,735 were lost in combat.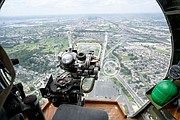 Following WWII, the B-17 saw combat in three more wars: B-17's saw service in Korea, Israel used them in the war of 1948 and they were used in Vietnam.
Public flights and ground tours will be available at Martin State Airport Sept. 2-3 from 10 a.m. to 5 p.m.
"Taking a flight in the B-17 is the ultimate history lesson," said Al Pollard, Martin State Airport chief of operations. "We want people to come out to see and experience this airplane."
"Madras Maiden" was built toward the end of the war and never saw any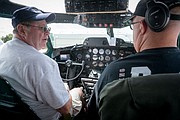 combat. It is painted in the colors of the 381st Bomb Group. The 381st BG flew 297 operational missions during the war, dropping 22,000 tons of bombs. During this time they lost 131 B-17's and downed over 223 enemy aircraft.
"WWII was probably the most transformative event of the 20th century," said Bob Hill, a volunteer pilot with the Liberty Foundation. "If you were assigned to a B-17, you had a 23 percent chance of survival. You were battling both the enemy and the altitude in an unpressurized plane. It was a horrible environment to exist in."
The nonprofit Liberty Foundation operates the "Madras Maiden" year round in its mission to honor veterans and educate current and future generations on aviation history.
"Other battlefields have their monuments and memorials," said Hill, "but you can never return to the battlefield of the sky."
The B-17 flight experience takes 45 minutes with approximately half hour in flight. B-17 Flights are $410 for Liberty Foundation members and $450 for non-members. Passengers can become a Liberty Foundation Member for $40 and receive the member discount for family and friends. Ground tours of the aircraft are free.
"While the cost to take a flight sounds expensive, it must be put in perspective when compared to the B-17's operating cost," added Hill. "A Flying Fortress burns 200 gallons of fuel per hour and cost over $5,000 per flight hour to operate. But it's important to the Liberty Foundation to preserve the legacy of courage, valor and sacrifice of our WWII veterans."
For more information, visit www.libertyfoundation.org.