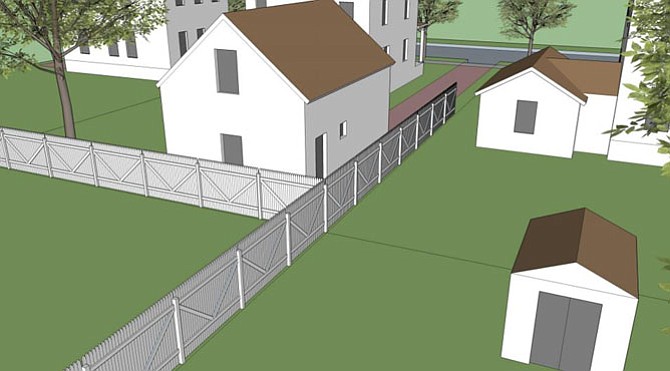 Andrea Walker had a pretty simple request, but one that had been in the works for 10 years. Accessory dwelling, an arrangement in which a portion of a property is enclosed as its own living space with its own entrance, is allowed in Arlington but an ordinance passed in 2008 came with a set of restrictions. Since then, only 20 accessory dwelling units had been approved. At the Nov. 27 County Board meeting, the board voted in favor of revisions that would ease the restrictions on accessory dwellings.
The ordinances removed the restriction on the number of new accessory dwellings created each year in the county, relieved limits on dwelling unit sizes, and allowed detached accessory dwelling units in properties with existing accessory dwelling. The new ordinance did spark concerns, from members of the public and County Board members, particularly surrounding the offset of detached accessory units from property lines. As written, detached accessory units can be built within a few feet of a property lines. Staff was told to assess more options for setback requirements for detached units, but in the meantime, most of the discussion surrounding accessory dwelling was supportive.
"I want to see robust accessory dwelling in my lifetime," said Walker. "I'm having surgery on Thursday, so no pressure. I agree with many concerns raised, but I know and we all know regulatory perfection is impossible."
Walker, who has been a resident of Arlington since 1967, is a part of Arlington's growing senior population. Michelle Winters, executive director of the Alliance for Housing Solutions, said accessory dwellings can help provide a moderate income to elderly residents who have more space in their homes than they need to live in. Additionally, these arrangements can also help provide cheaper housing options in a region facing a dwindling supply of affordable market rate housing. However, like others, Winters noted that current ordinances have too many restrictions on accessory dwelling units, particularly the size limitation on basement accessory units.
"I want to age in place, and converting my second floor into accessory dwelling could help," said Walker. "Did I mention that my surgery is on Thursday?"
But for others, there was concern that greater allowances for accessory dwelling could contribute to what many see as an erosion of Arlington's neighborhoods.
"How does having two houses on one small lot support single family residential use?" asked Barbara Taylor. "There's a limit to the number of people we can squeeze into the already densely populated neighborhoods."
Arthur Fox, representing the Arlington Ridge Civic Association, said he was concerned about the detached accessory dwellings made possible in the proposal.
"Our concern is predicated on the assumption that homeowners will be careful renting space in their walls than in detached buildings in the back yard," said Fox. "Short-term transients may have little respect for neighbors."
These concerns were shared by the County Board.
"Nowhere in code requirements was there envisioning second homes," said Dorsey. "This was not what was imagined in setback requirements when we set that to a foot."
Dorsey, with support from the board, directed the manager to return with recommendations for new detached accessory dwelling recommendations that would include a look at height, setbacks, and other variables.
"Detached is a different animal," said Dorsey. "I think the desire is to make sure we are working with homeowners to make sure we allow existing homes to be used with this purpose, but with new buildings, not sure we've accounted for all [the variables]. It makes a lot of sense over next couple of months to look at the way others have done it."
But while the proposal to review detached setbacks at a later date was enough to satisfy the rest of the County Board, member John Vihstadt, the lone opposition to the ordinance, said it still gave him pause.
"There is a lot of anxiety in this community about this ordinance," said Vihstadt. "Detached units and grandfathered units within a 1 foot setback ... we don't know how many people are going to take advantage of this."
Though he was voting to oppose the ordinance, Vihstadt still said there was a lot of good in it. The County Board voted 4 to 1 to approve.