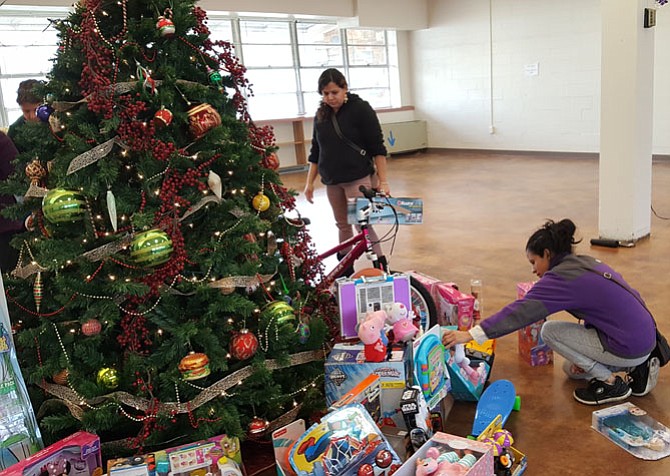 As Terrance Puller surveys boxes wrapped in holiday paper and filled with tubes of toothpaste, sticks
"Sometimes even a spoken word can be said to help someone to a better place." — Christabel Sampson
of deodorant and other self-care toiletries, he says he can feel his heart well up with gratitude. The packages were part of a donation drive to benefit So Others Might Eat (SOME), a local nonprofit organization with a mission to provide services to the poor and homeless. Puller, who is now both a SOME employee and volunteer, reminisces about a period in his life when he was a recipient of such generosity.
Five years ago, Puller says he was alone, homeless and deep in an alcohol and crack cocaine-induced haze. He would later recall that he was so staggeringly intoxicated one holiday season that he would miss an opportunity to say goodbye to his dying mother. What he did receive that year however, was life changing.
"I was able to come into the shelter and get treatment, food and eventually a job," said Puller. "I volunteer my time because … being here reminds me of my story and makes me grateful. It keeps me uplifted, less depressed and clean and sober."
Mounting research validates Puller's assertion. "Giving of our talents and time is an important way to improve our well-being," said Carolyn Lorente, professor of psychology at Northern Virginia Community College. "What many of my colleagues are looking into is the connection between volunteerism and sense of self. It turns out that when we give to others, it not only helps those we are assisting but also boosts our sense of agency, gives us a sense of purpose and belonging and informs our sense of identity."
During the holidays, which are often emotionally charged, a focus on helping others can lead to feelings of gratitude and happiness, says psychologist Jerome Short, Ph.D. In fact, he points to a 2010 study published in the journal Clinical Psychology Review, which shows a link between benevolence and contentment.
"Kind acts increase personal happiness because we naturally empathize with others and take pride in our ability to make others smile and feel good," he said.
Even for those who haven't experienced levels of need such as Puller's, acts of altruism can have a positive effect on one's mood. An example is Jennifer Carter, a senior at Marymount University in Arlington, who spent last weekend in the center of a crowded auditorium on the university's campus frantically tying strips of fleece cloth. Along with nearly 300 other volunteers, she was making blankets for newborn babies for an organization called HOPE, a nondenominational crisis pregnancy center in Fairfax County.
"When these new mothers leave the hospitals it's usually with a thin cotton blanket," she said. "A lot of times, the things that they're missing are warm blankets for the babies. It feels good to be able to give these mothers something that many people take for granted. It makes you realize how fortunate you are."
Short points to a 2016 study from the University of California at Riverside which shows that volunteerism can lead to gratitude and happiness. "Grateful people pay more attention to the cost, effort, and value of helping acts than the average person does," he said. "They are better at coping with life stress because they trust others to help them and then reach out and accept help."
Christabel Sampson experienced this metamorphosis first hand when she relocated to the Washington, D.C. area and was unable to find a job. She had mounting bills, but no income. Her financial outlook spiraled further downward and she became homeless. She moved into a shelter run by Interfaith Works, a nonprofit organization in Montgomery County Maryland that works to meet the needs of the poor. Through the organization's job training program, she was able to gain skills training, clothing and shelter. As a result of the services she received, Sampson says she found a job. Now she volunteers her time to helping others at Interfaith Works and has even become a member of the organization's board of directors.
"The experience of being homeless and now helping other women definitely made me stronger," said Sampson. "Sometimes even a spoken word can be said to help someone to a better place. I have empathy because I have been there."