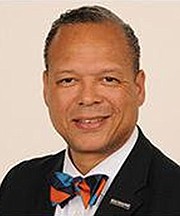 Mount Vernon District Supervisor Dan Storck has appointed Walter C. Clarke to the Fairfax County Planning Commission effective April 1, 2018. Clarke's background in business development and financial services, combined with chambers of commerce leadership, president of the non-profit Southeast Fairfax Development Corporation (SFDC) and co-chairman of the EMBARK Richmond Highway Advisory Group, qualified him for the position.
"Mr. Clarke's professional experiences in business development and financial services, combined with his commitment to serving our community make him an excellent candidate for planning commissioner," Storck said. "As a current co-chairman of the EMBARK Richmond Highway Advisory Group, he has played a substantive role in the revisions to our Comprehensive Plan that are essential to funding mass transit improvements and redevelopment. The selection of Mr. Clarke as the next commissioner is a natural next step in his service to the Mount Vernon District. I am certain Mr. Clarke will bring excellent leadership and knowledge, combined with a calm, thoughtful personality and strong sense of community to the Commission."
Current Planning Commissioner Earl Flanagan has agreed to work closely with Clarke over the coming months to ensure a smooth transition of upcoming matters and continued support as needed.
The Fairfax County Planning Commission is a 12-member board, with nine district appointees and three at-large appointees. The Planning Commission advises the Board of Supervisors on all matters related to the growth and development of Fairfax County, including applications for rezoning, special exceptions, conceptual/final development plans, proffered condition amendments, and all associated amendments to such applications, as well as any amendments to the county's Comprehensive Plan. The planning commissioner receives a $23,000 per year stipend.
"My level of experience and the knowledge gained through working with County Staff, current Commissioner Earl Flanagan, other members of the community, and community leaders positions me to be of great value when it comes to land development decisions that will have an impact our community," said Clarke.
Clarke is a vice president at Burke & Herbert Bank and has lived in the Mount Vernon community with his wife and two children for more than 15 years.