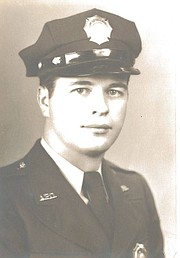 James Edward Martin, 93, of Alexandria, died on Friday, Nov. 24, 2017. He was the beloved husband of the late Betty Martin; father of Donna Breeding, Sandy Brown and Edward "Marty" Martin; grandfather of five and great-grandfather of five.
Mr. Martin served in the Navy during World War II. He began his police career on the Alexandria Police Force subsequently serving with the DC Metropolitan Police until his retirement, after which he was an administrative assistant with Fairfax County Schools.
In lieu of flowers, memorial contributions may be made to The Leukemia and Lymphoma Society of Alexandria. Visit www.lls.org/national-capital-area.