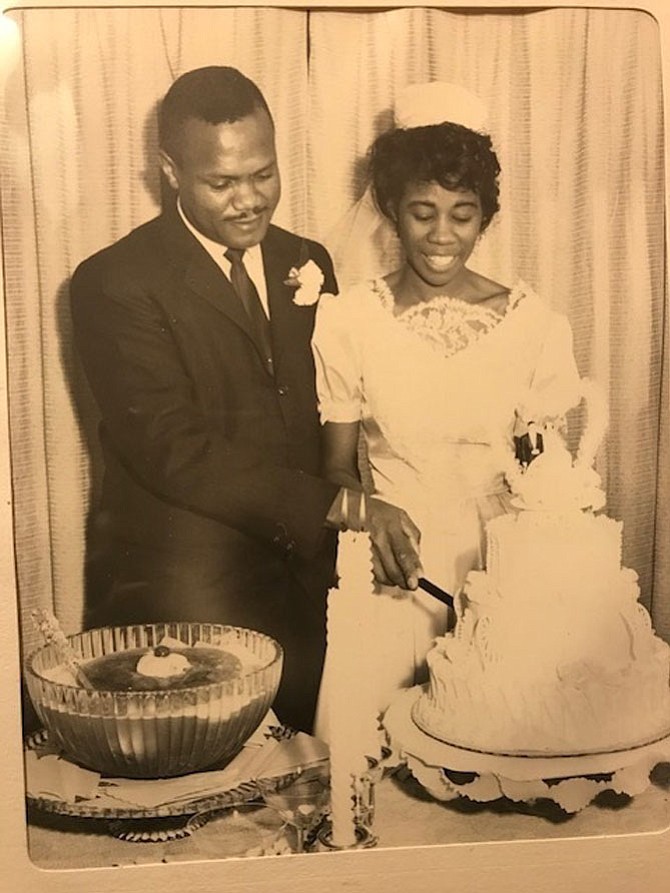 "When you're young you think you can save the world. We did what we could to bring change and improvements to the city." — Emma Hope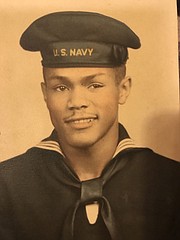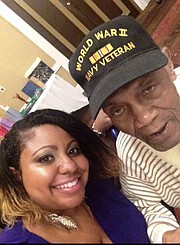 Lionel Hope was a quiet man, a World War II veteran and government accountant who never set out to be a trailblazer. He simply wanted to do his part to improve the quality of life for the underserved residents of the community.
"When you're young you think you can save the world," said Hope's wife Emma. "We did what we could to bring change and improvements to the city. And we had the support of [former City Manager] Vola Lawson. She was very devoted to Lionel and stuck with him all the way."
Hope's civic engagement led him to run for City Council. He was elected in 1982 and served until 1991, becoming Alexandria's first elected black vice mayor. On Nov. 13, Hope died at his home in Edenton, N.C. He was 92.
Lionel Reginald Hope was born Feb. 10, 1925, in Hampton, Va. While attending Phenix High School, he was an avid athlete, running track, playing quarterback on the 1941 and 1942 State Football Championship teams and serving as captain of the basketball team.

Following graduation, he entered the U.S. Navy, serving from 1943-1946. He went on to earn a degree in business management from Hampton University in 1950.
Hope began his professional career as an insurance agent followed by a job with the Federal Housing Administration, now the Department of Housing and Urban Development. He took advanced courses in auditing at the University of Virginia, worked as an auditor for the District of Columbia; and later joined the University of the District Columbia as a management analyst, retiring as a senior accountant.
In 1963, Hope married Emma Littlejohn. The couple moved to Alexandria in 1965 and Hope quickly became involved in community activities. As president of the Alexandria Neighborhood Citizens Improvement Association (ANCIA), he paved the way for Dip Urban Renewal Development.
"The house I live in is because of Lionel," said Lynnwood Campbell, a former neighbor who worked on Hope's campaign team. "My neighborhood was part of a renewal project that Lionel and Vola Lawson spearheaded. He was a quiet man but very committed to making things better for the city."
Hope was a lifetime member of the NAACP and a member of The American Legion. His community involvement included membership on several city boards, commissions and community organizations, including the Alexandria Economic Opportunity Commission; Alexandria Hospital; Alexandria Industrial Authority; Budget Ad Hoc Committee; Community Development Block Grant Commission; Hopkins House; Mica Housing; and the Potomac Yard Small Area Planners.
Hope was honored by numerous organizations, including the AFSCME Local 2087; Annie B. Rose Foundation and the Alexandria Society for the Preservation of Black Heritage; Chamber of Commerce; Friendship Veterans Fire Engine Association; Liberty Bell Lawyers Club; Northern Virginia Chapter of the Hampton University Alumni Association; Potomac West Trade Association; and the T.C. Williams High School Distributive Education Club.
"Lionel was the sweetest and most honest man," said Nancy Lavalle Perkins, who worked with Hope during his years at City Hall. "He was so soft spoken — he almost whispered when he talked. And he was very self-effacing. There was no braggadocio at all with Lionel."
Hope's granddaughter, Summer Shtay Edwards, lived with her grandparents from kindergarten through her high school graduation.
"I was only 10 when he was elected as vice mayor," Shtay Edwards said. "But I remember thinking 'wow, my grandfather is the first of something.'"
Hope would often take his granddaughter to City Hall and instilled in her a sense of community service.
"My grandparents have both always been givers," said Shtay Edwards, who is a teacher in Fairfax County. "They always offered a helping hand to others. Because of their influence, I became a teacher because I wanted to touch lives and make a difference."
Upon his retirement, Hope and his wife relocated to Edenton, N.C., where he was a devout member of Canaan's Temple A.M.E. Zion church.
Hope lost both parents at a young age: his father, Merritt Hope, died when he was 12 years old; and his mother, Rebecca Griffin Hope, died when he was 3 years old. He was raised by his stepmother, Eva Hope.
Hope was the youngest of five siblings who also preceded him in death: one brother, Earl Hope, and three sisters, Dorothy Brown, Violet Northington and Felicia Jones. He had three step-siblings who also predeceased him; Horace Taylor, Bruce Taylor, and Ernestine Taylor.
Hope is survived by his wife of 54 years, Emma Jane; four children, Lionel R. Hope Jr. (Hattie) of Huntington, W. Va., and Matheline L. Pugh (Lonnie) of Hampton; Debbie Hawkins Shtay and Joseph Hawkins; five grandsons, Daniel W. Dennis III (Hazel), Timothy Dennis (Janet) Melvin Lunsford Jr., Lionel R. Hope IV (Lolita) and Reginald Hawkins; one granddaughter Summer Shtay Edwards; four great-grandsons, Melvin Lunsford III, Cameron Lunsford, Derrick Dennis and Reginald Hawkins Jr.; eight great-granddaughters, Ashley Dennis, Jaylyn Dennis, Jasmine Dennis, Jane't Dennis, Alana Lunsford, Amina Camille Hope, LaTravia Hawkins and Laila Rivas; and two great great-grandchildren, Ma'Leah and Kadean Hawkins. He also leaves behind several nieces, nephews, and cousins.
A memorial service will be held Sunday, Nov. 19, at 3 p.m. at Blair Funeral Services, 141 E Carteret St., Edenton, N.C. 27932. Interment will take place Nov. 20 at the Albert G. Horton Jr. Memorial Veterans Cemetery, 5310 Milners Road, Suffolk, Va. 23434.

"I will always remember that although my grandfather was very mild mannered with a laid back personality, he always took on the role of a protector," Shtay Edwards said. "He provided me with a loving example of how a man should treat his wife."