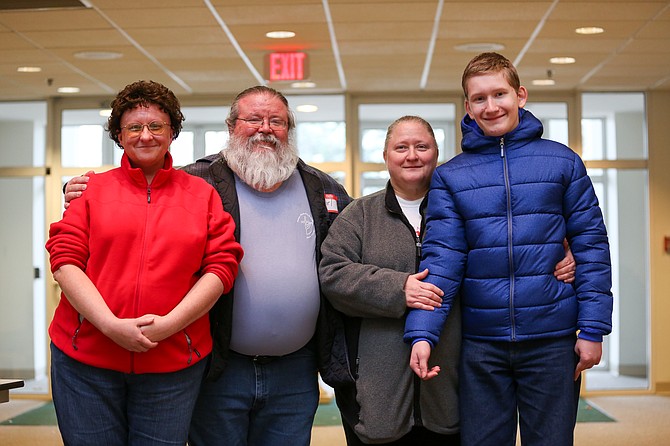 Saturday, Dec. 9, marked the Vienna Committee for Helping Others' Christmas store at Vienna Presbyterian Church. Families in need came from all over to receive gifts donated by local people to ensure that everyone has a merry Christmas.
CHO is a volunteer-led organization that assists families in need in Vienna, Oakton, Dunn Loring, and Merrifield. They provide help with emergency finances, food aid, clothing, furniture, meals on wheels, and transportation for those requiring their services.
Teresa Creighton, a Vienna resident, chef and baker, and her son, Sam Creighton, 13, were one of the families who came to the church for gifts to help make their Christmas better.
"I told my children that Santa comes and brings children toys they had on their list and drops them at the church and parents come here to pick them up," said Creighton.
Currently she and her son are without a home for the holiday season as they were evicted from their previous place of residence, so programs sponsored by community organizations like CHO are crucial this time of the year.
"Christmas is financially hard. We take donations and save up," said Creighton.
But when saving isn't enough, it's up to organizations like CHO to ensure that families like the Creighton's have a happy holiday season.
Karl Wilkerson, an officer with CHO was at the church Saturday to supervise the donations and talk to the recipients.
"We try to help everybody that we can help," said Wilkerson. "We get pages of people referred from the social service organizations in Fairfax county."
The Creighton family has been receiving assistance from CHO for the past two years. They have come to depend on these community outreach programs to help them get through a stressful time of the year.
"The joy of seeing my children unwrap the gifts from CHO is amazing and something that I look forward to. I didn't know the amount a parent could sacrifice," she said.
CHO also assisted the Creightons with their Thanksgiving holiday. They provided a chicken and turkey for their family.
Teresa Creighton prides herself in being a 1950s style from-scratch baker as well as an automotive wiz who can fix old cars. "I learned that from my dad and brother," she said.
For more about CHO, visit cho-va.com/wordpress/.