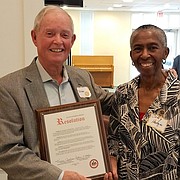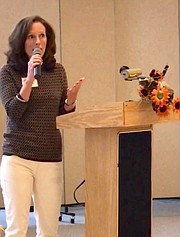 The Committee for Helping Others (CHO) celebrated 50 Years of Service to the community by honoring its institutional and individual supporters and volunteers at a reception on Oct. 5 at Vienna Presbyterian Church.
CHO Chair Ollie Fowler welcomed all guests, and gave a bit of background on CHO. Reverend Pete James of Vienna Presbyterian Church provided an opening blessing, and Linda Colbert, daughter of former mayor Jane Seeman, expressed appreciation for CHO's work from the town of Vienna. Former Chair Blaine Lotz discussed the early days of the organization, and finally, Fairfax County Board of Supervisors member Cathy Hudgins provided a plaque of appreciation for CHO's work.
This year marks the 50th year in which CHO has collected donated food, furniture and clothing, as well as providing emergency financial assistance to needy people in local area. CHO also supports the county's "meals on wheels" program, and organizes a "Christmas Store" event in early December at Vienna Presbyterian Church to offer some extra holiday cheer — presents, clothes, and gift cards for food — to needy families and their children. CHO's emergency financial assistance program pays for rent, mortgage, utility bills, medical expenses and other emergency needs.
CHO's anniversary celebration focused on the institutional and individual members of the community who have helped CHO assist its neighbors over the years. Guests at the event could examine pictures of the local churches and faith-based organizations that are institutional members of CHO; these organizations provide both needed funds and the numerous volunteers who keep CHO going.
In addition to the churches, diverse businesses and community establishments, e.g. Navy Federal Credit Union, Northeast Vienna Citizens' Association (NEVCA), Giant Food and Bikes at Vienna, as well as generous private individuals who often prefer to remain anonymous, provide needed donations and assist with fundraising events. CHO was delighted to welcome to the event representatives of Fairfax County Social Services, who work closely with the CHO emergency services volunteers. Other entities, such as Assisting Young Mothers, school teachers, outreach workers, apartment managers, visiting nurses, and medical and mental health groups, also support that effort,
CHO was organized in 1969 by a group of concerned churches and individuals in the Dunn Loring, Merrifield, Oakton, and Vienna community to provide assistance to neighbors in need. Since it has no paid staff, CHO relies on its volunteers, as well as spouses and friends who lend a hand, and young people who participate in school and church service projects.
Many of the people whom CHO assists have full time or part time jobs, but the pay is insufficient or too erratic to cover all expenses. Some are refugees or recent immigrants; others are elderly or retired and living on a small pension or caregivers for family members.
CHO appreciates the help of all of its supporters, and looks forward to the next 50 years. For more information about CHO, see the CHO website at www.cho-va.com.