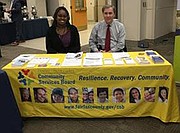 The Fairfax-Falls Church Community Services Board (CSB) began offering same-day, in-person screening for adults with mental health/and or substance use concerns in July 2015 and extended same-day access service to youth in late 2016. More than 500 youth and families have been served this year.
According to a recent national survey, "The State of Mental Health in America 2018," Virginia is ranked high in several categories concerning the mental health of today's youth: 12th in youth with alcohol dependence and illicit drug use, seventh in youth alcohol dependence, 10th in illicit youth marijuana use and eighth in youth cocaine use. More than half of people who took the online depressive screening (in Virginia) had thoughts of self-harm or suicide nearly every day. According to the report, youth are at risk – 62 percent of female youth and 52 percent of male youth scored as having moderately severe or severe depression.
Same-day access is considered a best practice in behavioral health, and the CSB staff has worked to make this system change. Fairfax County Public Schools, the county's Department of Family Services and other agencies began referring families and youth to the CSB for same-day walk-in services on Nov. 1, 2016, as a "soft launch" for the service. Since that date, more than 500 young people have sought screenings and/or assessments. If a family and/or individual prefers to schedule an appointment for a screening or assessment, they may still do so by calling 703-383-8500.
In August, CSB's youth walk-in screening staff became a referral source to the Short-Term Behavioral Health Service Program (STBHS). Young people with mental health needs, such as depression and anxiety, can receive 6-8 sessions of outpatient counseling using evidence-based approaches. The STBHS is a program of Healthy Minds Fairfax, the county's initiative to coordinate a full range of mental health and substance abuse services for children and youth across multiple county agencies, the school system and private treatment providers.
Jim Gillespie, LCSW, MPA, Healthy Minds Fairfax director, said, "We're working hard to provide services and support to youth and families who need them, while reducing the stigma surrounding mental illness and help-seeking."
Often when people recognize that they need help, there may be a brief window of time when they are willing to look for and receive help. If a person has to wait too long for services, the chance to help may be lost.
Individuals of any age seeking help for a mental health and/or substance use concern, may walk in, without appointment, to the CSB's Merrifield Center and speak with a staff member in person, rather than initiating contact over the phone. If the individual appears to qualify for CSB services, they may be able to receive a more in-depth assessment for services that same day. Each CSB assessment clinician is trained to assess for substance use disorders as well as mental health and co-occurring disorders.
For more information, contact the CSB at 703-383-8500 (Monday-Friday, 9 a.m.-5 p.m., extended hours for youth until 7 p.m. on Tuesdays). In an emergency, call CSB Emergency Services at 703-573-5679 (answered 24/7).