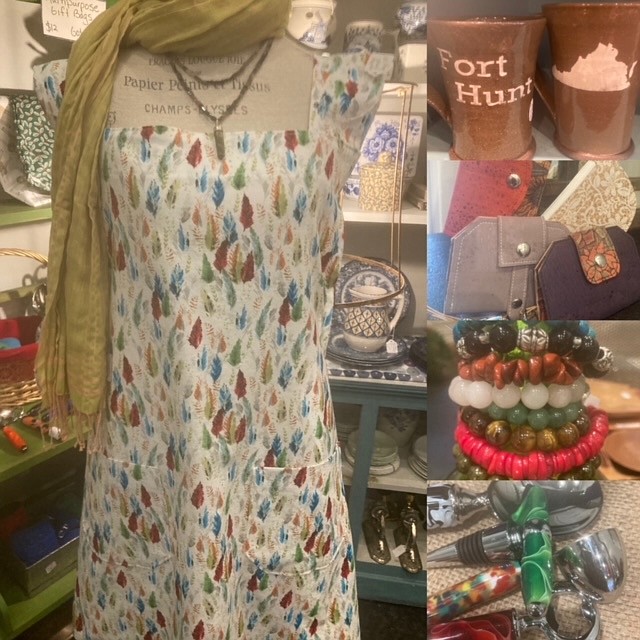 Knowing the story behind the antiques and consignments at shops in Mount Vernon is a bonus for the sales pitch, especially since George Washington roamed the area at one time. Like Mike and Frank find on the reality show "American Pickers," the story behind the antique is not only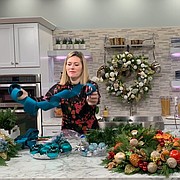 a conversation piece, it's history around here.
This happened with Willow Wright at Urban Redeux when a man came in with a haunted chair a few years ago. He told her that "everybody in his family has seen a little boy in this rocking chair," she said, so she bought it, remembering the story that went along with it. Another customer offered to sprinkle it with holy water, and then the next customer heard the boy ghost story and immediately bought the chair.
"Sometimes they want to know the history behind things so they can also share the story," Wright said.
Urban Redeux started as a mother and daughter operation featuring Wright and her mother, Wendy Wells-Finn. They loved shopping in these special places that specialize in estate sales, and took over Urban Redeux in 2018; now the store is run entirely by Wright. She travels to estate sales and auctions to get her materials, and isn't afraid to admit: "I have been dumpster diving as well," she said.
"A little bit of everything is what we carry," she added. "Anything that's related to Mount Vernon or the Capitol sells quickly."
The shoppers in Re-Design in a Day became the gift creators too, and now the store is full of local, handmade items that scream "one-of-a-kind." The store is located in the Hollin Hall Shopping Center and features pottery by Sandra Dalal of Brown Fox Pottery; smocks/reusable gift bags by Sue O'Boyle; jewelry by Elizabeth Auld and Lucrecia DeLeon; cork wallets/wristlets by Michelle Ludwig and hand turned bar accessories by Maritza Maxwell of Hatch.
There are also soaps by TrulyLife, and soy candles by Ohhsoygoodness, both are located in Del Ray.
"A combination of new and locally made, everything has a story," said store owner Nicole Scott-Howe.
Evolution Home is a consignment gift store that features 24 individual stores inside, conjuring images of the old Thieves Market that was located down the street until a fire a few years ago.
"Something for everyone here," said owner Susan Driscoll.
The evolution of Evolution Home takes as many turns as the gift selection inside. Years ago, it was a bowling alley with 10-pin lanes upstairs and duckpin lanes downstairs. Duckpins are lanes that use a small ball, about the same size as a softball, and small pins that scatter like a group of ducks when hit with the ball. There aren't any duckpin lanes in this area anymore, and the number of 10-pin lanes is becoming a rarity too.
After the bowling alleys were removed, Evolution was home to St. Claire Appliances before the consignment shop took over. "We do come up with some historic, rare items from time to time," Driscoll said.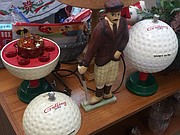 At SALE by GALE, the owner Gale Curcio specializes in estate sale items, and has a showroom off Edsall Road in Alexandria. Her quirky items include a Picasso-style round accent table, an Antique Chinese Traveling Basket, vintage toys like Tonka truck, Structo cement mixer, a B.O. Silver Mountain train, and an unusual set of golf decanters in the SALE by GALE Showroom.
At Atelier Ashley Flowers they have a cult-favorite, "Lord Jones Limited Edition Holiday Hemp-Derived CBD Gumdrops," that come in Sugarplum and Spiced Cranberry. "Whether you're looking for a twist on a traditional stocking stuffer, a unique place setting at a socially distanced table scape or simply a reason to chill, our handmade Gumdrops offer a bite of holiday magic," their selling text reads. Does it get you high? "They're more like for relaxing," said Ashley Greer, the Floral Artisan and CEO at Ashley Flowers.
Ashley Flowers started taking orders for holiday wreaths in August, and by mid-December, she's swamped with orders. She's running the on-line business out of her home in Alexandria and recently hired a driver, but relies on her mother to deliver when the orders expand. Holiday wreaths are sold out for the pre-order group, and they are taking phone orders, but they urge customers not to wait.
If you go...
Urban Redeux
8742 Cooper Road, Alexandria, VA 22309
703-780-4301
SALE by GALE Showroom
5605-D General Washington Drive, Alexandria, VA 22312
202-256-5332
Re-Design in a Day
5942 Fort Hunt Road, Alexandria, Va 22308
571-371-8417
Evolution Home
6239 Shields Avenue
Alexandria, Virginia
(703) 519-1911
Consignment:
Praha Beads and Jewelry
215 S Union St., Suite #8 in Old Town Alexandria, VA.
703-838-5000 or via cell at 703-282-8251
Atelier Ashley Flowers
Text: 301-648-8181