"Old Town has all the elements for us to be successful." — Asana Partners Director of Development Reed Kracke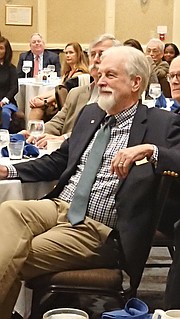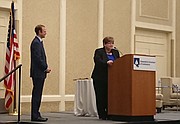 A year ago few in Alexandria had heard the name "Asana." On Dec. 5, representatives from the Charlotte, N.C., real estate investment company were the featured speakers at the Chamber of Commerce annual meeting discussing the firm's acquisition of 21 properties along the King Street corridor in Old Town.
"Old Town has all the elements for us to be successful," said Reed Kracke, director of development for Asana Partners. "From the waterfront to the Metro there are critical mass storefronts — we don't have to create that."
Joining Kracke was Kate Grissom, Asana Partners director of merchandising and leasing. Avison Young principal Nick Gregorios moderated the panel discussion held at the Hilton Mark Center.
"There are a lot of great small retailers in Old Town," Grissom said. "That makes Alexandria further along than other markets we are in, like Dallas. We think we can add value to what is already here."
Beginning with the December 2016 acquisition of the PMA Properties portfolio of 14 properties, Asana has invested more than $100 million in retail space along King and South Union streets. The founders of Asana — Terry S. Brown, Jason Tompkins and Sam Judd — are former executives with Edens, developers of 530 First St., the location of the former Giant and ABC stores in North Old Town.
Grissom noted that Old Town is not without its challenges.
"It's going to take a lot of creativity to make some of these historic buildings work for retailers," Grissom said. "Our biggest challenge is to figure out how to make the model of larger retailers work on King Street. Still, we believe we can create an experience shoppers can't get in a mall."
Kracke, who previously lived in Alexandria for 11 years, was familiar with Old Town as a retail destination.
"King Street in Old Town is a known commodity," Kracke said. "It's already a shopping destination for a highly populated, wealthy demographic. Unlike the Mosaic District, which we had to create as a new destination, Old Town has an existing authenticity that can't be recreated."
Also at the annual meeting, Virginia "Gin" Kinneman formally took the reins as 2018 chair of the Chamber of Commerce board of directors. Kinneman, founder and owner of Kinneman Insurance of Alexandria and McLean, has led both the Alexandria Chamber of Commerce Professional Women's Network and the organization's membership committee.
"It's an exciting time to be part of the business community in Alexandria," Kinneman said in taking. "This is an honor for me and I am looking forward to working with the chamber board, staff and all business owners across the city."