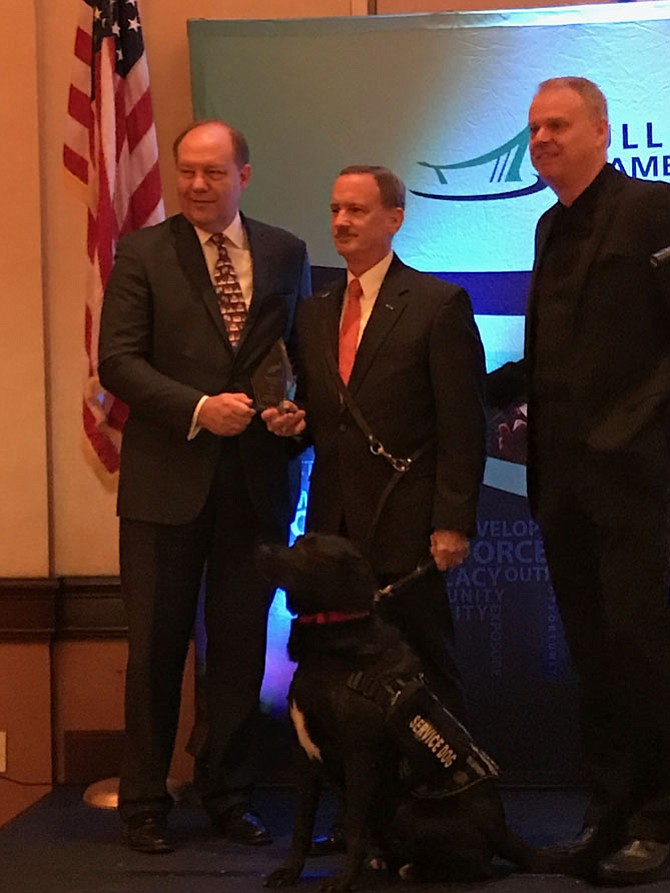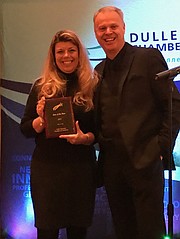 The Dulles Regional Chamber of Commerce celebrated the businesses and organizations that make the Dulles area shine at their Awards Luncheon 2017, "Stars Over Dulles," held Wednesday, Dec. 13 at the Hilton Washington Dulles Airport, 13869 Park Center Road in Herndon.
The Dulles Chamber is one of the largest chambers in the region with more than 800 members. Situated in one of the nation's leading high-tech corridors, it serves Dulles, western Fairfax and eastern Loudoun counties, Reston, Herndon, and Chantilly.
The luncheon celebrated the achievements of approximately 50 business and nonprofit finalists for the Chamber's 2017 Leader Awards. With 15 awards categories, among them Transportation, Nonprofit, and Distinguished Veteran, the ballroom was packed to capacity with family, friends, and co-workers of the finalists.
John Boylan, President and CEO, Dulles Regional Chamber of Commerce presented the awards; James Lawson, Chairman of the Board, Dulles Regional Chamber of Commerce emceed the celebration.
This year, the Chamber had difficulty naming just one person for its Lifetime Achievement Award. The names of two individuals, both now retired, kept rising to the top, Art Anselene, Town Manager of Herndon, 1976-2017 and Eileen Curtis, Dulles Regional Chamber of Commerce President and CEO, 1994-2017.
Wanting to recognize both individuals for their exceptional performance and dedication, the Chamber solved the selection problem by renaming the Lifetime Achievement Award to The Eileen D. Curtis Award Lifetime Achievement Award and presenting it to Anselene.
"I was completely surprised at this week's Awards Luncheon to find out that the Dulles Regional Chamber has named their Lifetime Achievement Award after me," said Eileen Curtis, former Executive Director of the Dulles Regional Chamber of Commerce, Retired. " What a lovely tribute! Thank you."
Anselene also was taken aback to receive an award. "It was a great surprise and honor to receive the first Eileen D Curtis Lifetime Achievement Award from the Dulles Regional Chamber of Commerce. It had been a tremendous pleasure to work in Herndon and with the community in advancing common initiatives to enhance the sense of community and place for the town. I will always be grateful and humbled for my work experience with the town and proud that Herndon is home," said Anselene in an interview after the awards luncheon.
Among the other recipients who received awards were Laura Readyoff, Owner and CEO of The Music Loft LLC and James Kuiken, Kuiken Group. Readyoff, who works and resides in Herndon, received the Arts Leader Award. As a small business owner, she awarded more than $15,000 in Music Loft Scholarships this year to students who have the talent and passion for studying music but not the means to do so.
Kuiken, who lives in Vienna, received the Distinguished Veteran Award. Through his first-hand knowledge of combat and the impact of Post Traumatic Stress and Traumatic Brain Injury, Kuiken is committed to helping returning combat veterans find healing, education, and meaningful employment. "I do what I do for those who did not make it home, physically, psychologically or emotionally," said Kuiken to the audience after accepting the award.
Category Award Winners
Chairman's Lifetime Achievement Award: Art Anselene, Town of Herndon, Retired
Transportation Leader: Paul J. Wiedefeld, General Manager and CEO, Washington Metropolitan Area Transit Authority
Workforce Leader: Madhu Garlanka, CEO, Software Products, Allwyn Corporation
Bank Leader: MainStreet Bank
Hospitality Leader: Westfields Marriott Washington Dulles
Small Business Leader: Jay Johnson, CEO, Five Minute Productions
Business Leader: Geoffrey Lawson, VP & GM, The National Conference Center
Innovation Leader: Praduman Jain, CEO, Vibrent Health
Arts Leader: Laura Readyoff, Owner, The Music Loft, LLC
Distinguished Veteran: Jim Kuiken, The Kuiken Group
Nonprofit Leader: Children's Science Center
Corporate Social Responsibility: John Sekas, Sekas Homes, Ltd.
New Chamber Member: Mustang Sally Brewing Company
First Responder Agency of the Year: Loudoun County Sheriff's Office