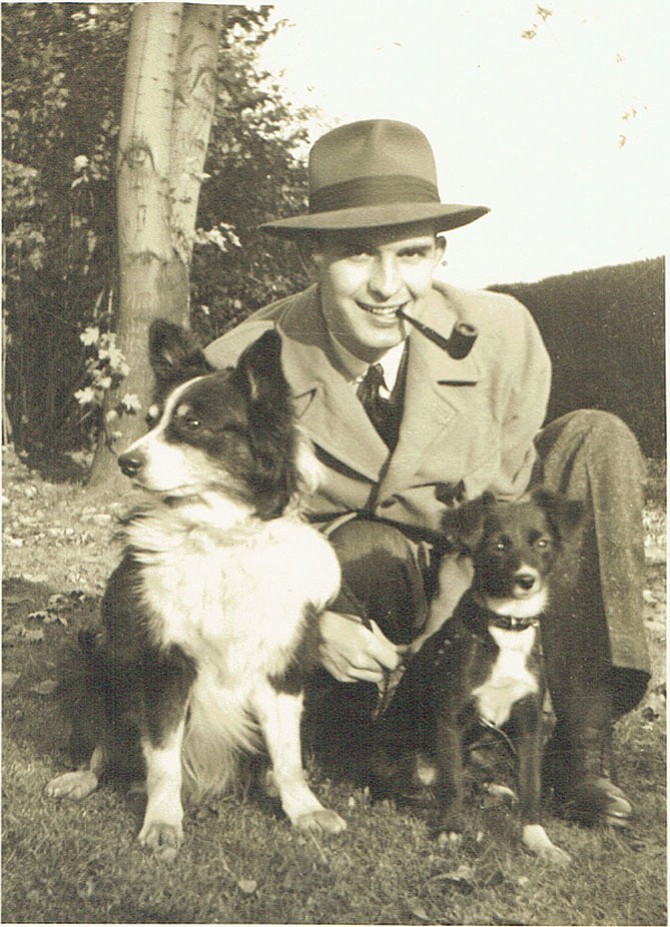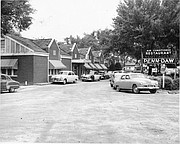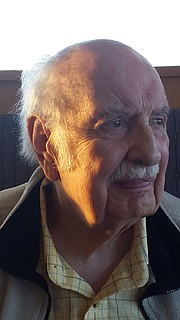 Long-time New Alexandria resident Lee Wilson Palmer turns 100 years old on Christmas Eve. Born on Dec. 24, 1917, the first thing that one notices is that he's in great physical and mental shape for his age. He looks and acts more like an 80-year-old. What is his secret to good health? He attributes it all to good luck.
"I think I've been a very fortunate man with good health, good friends, and bad enemies .... I'm healthy. I eat what I want. I stay up late. Get up when I'm ready. You can't beat that," he said.
In fact, the old saying: "I would rather be lucky than smart" has been a favorite of his for his whole life. "I just live; I did what I wanted to do," said Palmer, a life-long Presbyterian. "There's no use to worry, you can't do anything about it; I hit the bed and I'm asleep."
Sitting in his home office on 16th Street in New Alexandria where he's lived since 1956, with old photos, memorabilia, and books, Palmer recounts the good old days. He said he moved to Annandale in 1946 and got a job on the night desk at Penn-Daw Hotel on Route 1 and then moved to Jefferson Manor.
He was named manager of the Penn-Daw dining room after he wrote a letter to the owner complaining about the cherry pie, and worked there from 1947-1967. Before the Beltway was built, Penn-Daw's dining room was the power lunch and favorite meeting place for the political and business leaders of Alexandria. It was also the site for Alexandria's elite parties and meetings.
"In those days, the word 'motel' had not been invented. You were either a hotel or a tourist home and cabins. No cottages. We had excellent food, excellent service, and we had cottages with four units. It was well known from Maine to Florida," said Palmer.
J. Willard Marriott Sr. and his son Bill Jr. were frequent lunch guests of the Dawsons (hence the name Penn-Daw) who studied their business before they built their empire. Penn-Daw's operation was one of the inspirations for the Marriotts as they moved into the modern "motor-hotel" business. "Marriott got his ideas there," said Palmer.
Other lunch guests include Joe DiMaggio; Mrs. Woodrow Wilson, who visited just before the opening of the Woodrow Wilson Bridge; and Ed Walker and Willard Scott who occasionally recorded their "Joy Boys" radio show from the lobby and promoted the restaurant with banter on the air.
During the Civil Rights movement of the 1960s, Palmer was determined that he was not going to oppose integration; he respected everyone no matter their circumstances. "I was the first to mix having black waiters and white waitresses work together," he said, always treating everyone equally.
His son Jim Palmer added that Penn-Daw's dining room may have been the first one in the area to have black waiters and white waitresses work side by side in harmony. And many became close friends and followed his father to the Old Club years later, or as he said "he followed them."
From 1968 to 1986, Palmer managed another local institution — the Old Club Restaurant, a well-established business run by the Everett family in Old Town Alexandria. He eventually became the owner in 1976. "We cashed in on the fact that it had been George Washington's Club," he said. "Sometimes we had three wedding receptions going on at the same time; we had at least one wedding every week."
In 1986, he became assistant manager of the Dixie Pig at 68 years of age, a popular restaurant and meeting spot on Route 1 for locals, where he made the menus and purchased the food. "Everybody from Alexandria came there; it was well known," he said.
He said "The Pig" bar had a regular clientele where the guests would arrive as soon as it opened. "People came in at 12 and stayed there all day. Dixie Pig was unique. It had people who showed up there and spent the day there until they closed," he said.
Jim Palmer added: "One of the main reasons that the Dixie Pig hired him was because Dad had a loyal group of friends and customers who would come and eat. It was the equivalent of Route 1's neighborhood pub. It was kind of a Road House."
His son summed up his dad's personality like this: "With the space of a few minutes he could be with sleeves rolled up, apron on, and hands soapy joking with the pot washer one minute; with jacket on visiting with the mayor over lunch the next; or sitting down creating a reception menu for a nervous bride-to-be and her mother; ordering fresh vegetables from a scruffy supplier; booking a tour group with 90 hungry kids and 30 minutes to eat who would be there in an hour; helping a waitress clear a table; listening to someone's personal problems; unplugging the toilet in the ladies room; entertaining a tourist family with tales of George and Martha Washington; and generally managing the whole chaotic show with the warmth, ease, and dexterity of a great conductor coaxing his orchestra to play better than they thought they could."
Palmer joined the Junior Chamber of Commerce and eventually the Chamber of Commerce. He was a 35-year member and president of the Mt. Vernon Kiwanis Club and is still active as the chaplain. He dressed up as Santa and went to schools to distribute gifts. It was known for selling Christmas trees where the now demolished Reed Theatre used to be. It also did food drives at Hollin Hall. "I had a full-service life; I spent a lot of time with them. The Kiwanians were a pretty lively bunch," he said.
Added his son: "The revenue from selling Christmas trees is basically all the money they raised the whole year. And then they distributed the money into the community where it's needed. My memories as a kid was a fundamental part of Christmas selling the trees."
Prior to his life in Alexandria, Palmer served in the U.S. Army from 1944-1946 during World War II. He was assigned to the 45th (Thunderbird) Division, 180th Infantry Regiment from Anzio, Italy, to Dachau (Concentration Camp). He was with the Thunderbirds when they broke the German defenses and liberated Rome. Although he was in actual combat for less than a year, he was in some of the most intense combat of the whole war.
"I was a plain old 'Willie and Joe,'" he said, referring to the cartoon characters. He did not go inside a heated building the entire winter of 1944-45, although he did hide from the Germans in a barn hugging a warm cow for a few hours one frigid night, said his son.
He returned to the front as a combat rifleman in October 1944 and during the winter of 1944-45 his division was officially in action for 86 consecutive days. They fought in the Alsace and Ardennes and held the Southern flank during the Battle of the Bulge. In March 1945, they crossed into Germany, drove the retreating German Army until it collapsed, liberated Dachau Concentration Camp and occupied Munich. He was assigned to the American occupation forces in Europe until December 1945 and was discharged on New Year's Day 1946.
Because he got shot in the legs during the war, he received a Purple Heart. "We finished up at Dachau and when I saw what one man could do to another, it all became pretty clear to me. I was glad I was part of it," he said. In fact, the impact of seeing Dachau was critical to his understanding of how all people should be treated, said his son.
Born in Liberty Hill Farm near Natural Bridge, Va., Palmer, an only child, moved with his mother to his uncle's house in Wytheville at age 5 after his father died. He describes his childhood as ideal filled with colorful characters. "I lived with my uncle. He was always good to me; he liked me. He drove a taxi in Wytheville. People liked him; he was well known and well liked. He'd take me with him a lot of times. I had a good boyhood," he said.
He added: "I'd say Wytheville was more of a summer resort. People did not want industry there. There were stores and churches and couple of feed houses; and a court house was at the center of town."
In 1940, he married Mary Page Trinkle, whom he had known since age 6; he had a friend whose property backed up to her house in Wytheville. She moved to Detroit when her father died but prior to that they attended neighborhood dances together. "My best buddy and she had been going to dances and things. There was a party every night somewhere," he said. "Couples used to dance together; I went to a lot of dances."
Mary Page had an aunt Betty and uncle Harry in Detroit who were helpful to the nephews and nieces, so they moved to Grosse Point, Mich., where Palmer worked for the Packard Motor Company and made PT Engines for the war effort. It was in 1943 that he got drafted to South Carolina for his basic training. But the Palmers didn't start a family until 1955 due to the war.
The couple had two children: James Lee, now 62; and Elizabeth Page (nee Palmer) Reick, now 59; six grandchildren and two great-grandkids. Mary Page has dementia and is in a nursing home.
While he was growing up, his son said his dad always had his back. He recounts this story of his dad as an example: "My sister was playing softball and her friend was pitching and a friend of mine and I were at the game trying to annoy them. We were heckling the players. The dad who was umpiring thought we were out of line. The umpire came over to chastise us, and my dad was sitting about 20 feet behind us; and he just charged the umpire and yelled even though we were completely in the wrong. So I remember my dad always had my back no matter what," said his son.