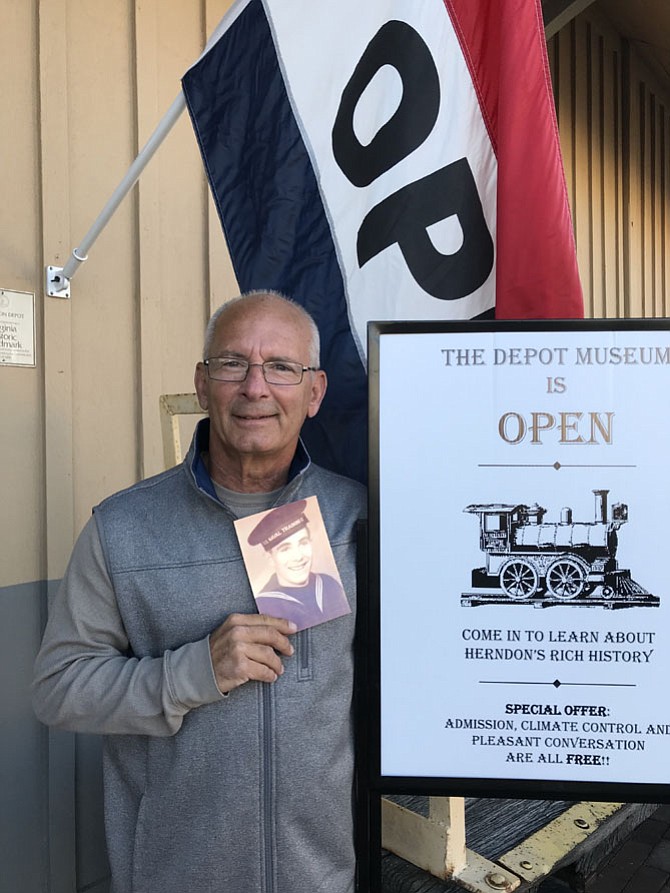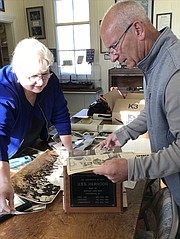 Angus "Gus" Schmelz, Radioman 2, served on the USS Herndon during World War II. Members of the Herndon Historical Society—headquartered in the Herndon Depot Museum at 717 Lynn Street, Herndon—will remember and thank him for a long time.
On Tuesday, Feb. 27, Gus' son, David Schmelz arrived from Florida and stopped at the museum with an assortment of boxes. On hand to greet him were Melissa Highly, president of the Herndon Historical Society, and Margaret Jamborsky, who is researching history of the Herndon. In the boxes were memorabilia Gus Schmelz, as his son recalled, "had kept in an office in his house." Schmelz died in 2007. David Schmelz was there to share with the museum some of his father's photographs, letters, documents, and physical artifacts he had collected while aboard the destroyer.
For more than an hour, everyone opened the boxes and looked back in time through an assortment of pictures and writings. During Schmelz' service as Radioman 2 aboard the Herndon, the ship earned three Battle Stars. The first in July/August of 1943, during the Invasion of Sicily, and the second during the Invasion of Normandy in June of 1944. This was the period of significance most important to the Herndon Historical Society and Jamborsky, since the Herndon High School Band is scheduled to represent the United States at the 75th anniversary of D-Day in Normandy, France in 2019. The Herndon earned its last battle star at the Invasion of Southern France in 1944.
Herndonband.org reports, "The Pride of Herndon will be honoring the brave men of the USS Herndon, the destroyer that led the Allied naval armada in the assault on France. The men of the 'Lucky Herndon' were given 10 to 1 odds that they wouldn't come out of D-Day alive. Not only did they beat the odds, their bravery and courage helped win the war. The band will be marching with the American flag that flew on board the ship on D-Day, and each student will carry a photograph of one of the veterans as they march in France."
Asked in an interview when his father had signed up to serve, Schmelz said, "There were five boys in my dad's family. Angus was only 17 years old, and his mother had to go with him and sign him up because he was underage."
Accepting the donation on behalf of the Herndon Historical Society, Highly commented, "We are very excited about the USS Herndon collection from Mr. Schmelz, and honored that he has entrusted the Herndon Historical Society to be the caretakers of it. We look forward to sharing it with our members and visitors for years to come."