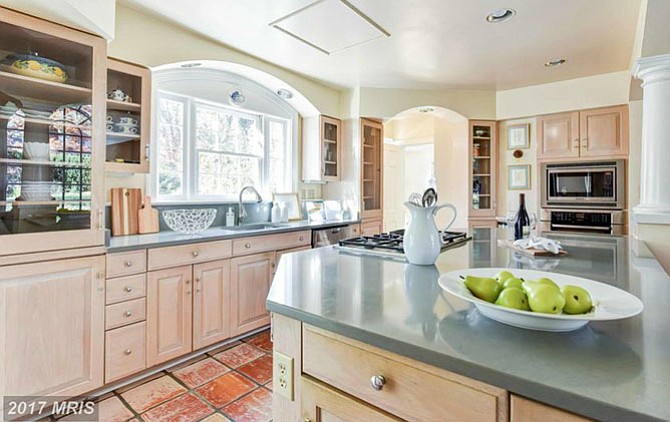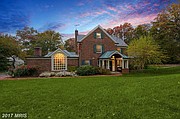 European craftsmanship, a free-flowing floor plan and light-filled rooms characterize a home that was designed according to the vision of a local jurist. Located in Alexandria's Braddock Heights community, the home, which sits on more than 1.3 acres, met the specifications of the late George M. Giammittorio, a former Alexandria Circuit Court judge.
"The home is sited on a bucolic lot in the heart of Alexandria," said Sue Goodhart, real estate agent, The Goodhart Group at McEnearney Associates. "Few homes still in the city have lots this size. It is very private."
At once grand and cozy, the home was designed with entertaining in mind. It boasts an expansive, sunny kitchen equipped with four ovens, an island and a breakfast room, which is warmed with a fireplace. An abundance of light streams in through floor-to-ceiling Palladian windows that offer a view of the home's manicured landscape.
The current homeowners "created the great room with a kitchen and open space … and have prepared the home for sale by repainting and updating throughout," said Goodhart.
Those updates can also be found on the home's upper levels, which include a master suite and three additional bedrooms. A third level includes an open loft space, which Goodhart says is ideal for sleepovers for a family with children. On the home's ground level are a recreation room with built-in storage and a second fireplace. It also includes an au pair suite with private entry and finished kitchen.
"Throughout the original house are touches of the handcrafted work created by artisans brought in by the judge from Italy," said Goodhart.
A multitude of bird species, include bald eagles, have been spotted on the property by its previous owners, making it an ideal setting for bird watching, says Goodhart. "It was a lovely family home but now the owners are downsizing as the children are grown and scattered around the country," she said.
Located at 2416 Ridge Road Drive, the home is on the market, listed for $2,095,000.