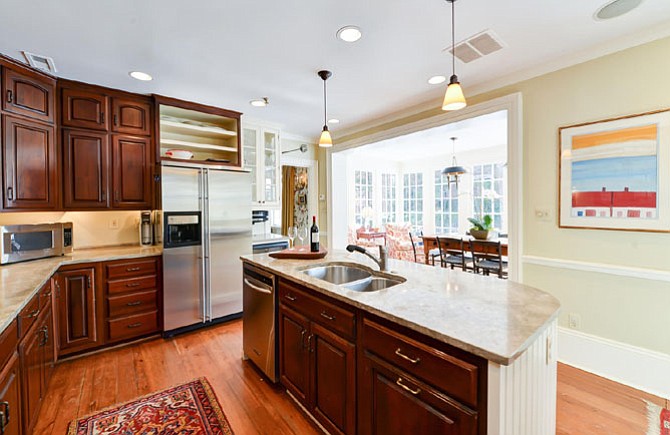 After stepping through the handmade, mahogany front door of a home nestled in the heart of Old Town Alexandria, visitors might feel as though they'd been transported back to the late 1700s, the period during which this Virginia home was built.
Known as the Shreve House, the home was constructed by shipping merchant Benjamin Shreve, a Quaker and abolitionist. During the Civil War, it was used as barracks by wounded soldiers and was occupied by escaped slaves. Today, it has an archaeological designation from the Virginia Department of Historic Resources.
The home is currently on the market and has "gracious rooms and high ceilings," said Babs Beckwith of McEnearney Associates, Inc., one of the listing agents.
Expanded in 1854 and periodically updated by each occupant, the Shreve House is steeped in both modern luxuries and preserved historic integrity. Period details like five wood-burning fireplaces and some of the original moldings and hardwood floors have been maintained and married with modern conveniences like an intercom system and outdoor lighting.

"Inside is a gracious entryway with 10-foot ceilings leading into a glorious … living room with six large windows overlooking the garden," said listing agent Sue Goodhart of McEnearney Associates, Inc. "A lovely glass-enclosed breakfast nook is off the kitchen."
The 11-room home has five bedrooms and four full bathrooms, a family room on each floor and a space above the garage that can be used as an office or family room.

Goodhart says the current owners, a family with three children, upgraded the home, renovating the existing kitchen and bathrooms and adding two additional lavatories. "They restored light fixtures, hand painted the walls, widened the entry into the dining room … and rebuilt the chimneys," she said. "They also installed a copper roof, relandscaped the garden and added an irrigation system."
The Shreve House sits on a large double lot and has two off-street parking spaces. It is located at 307 South Saint Asaph Street and is for sale at $3.995 million.