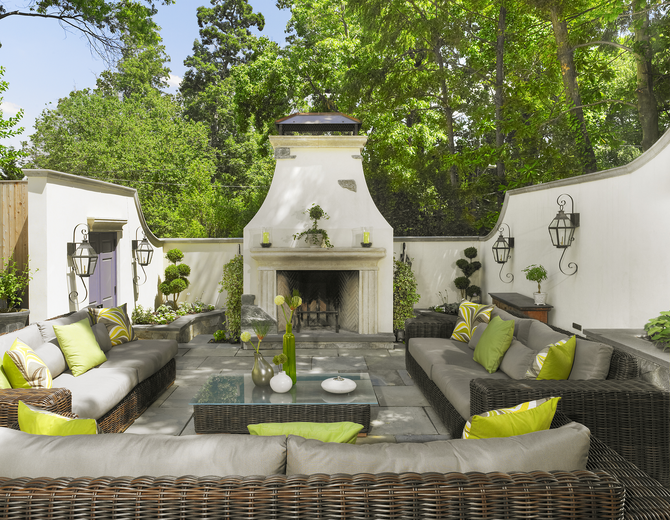 From designing a kitchen with a concave glass tile backsplash to creating a backyard with a fireplace and pool, some local home remodelers were honored recently with the National Association of the Remodeling Industry's (NARI) 2013 Regional Contractor of the Year awards for design acumen. Winning projects ran the gamut from historic preservation projects to environmentally conscious conceptions.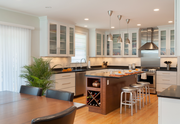 HARRY BRASWELL of Harry Braswell, Inc. in Alexandria, was named Contractor of the Year in the "Entire House $500,001 to $1,000,000" category for the renovation of a home that had not been updated since the 1950s. "The house was outdated, too small for the family's needs," he said.
The renovation included a kitchen outfitted with cabinet-front appliances and porcelain sinks including an apron farm sink and an island sink in a pale aqua. "That color is carried throughout the house," said project manager Gretchen Brown.
"The key to a successful project is finding a person or company that you communicate very, very well with and whose process is in line with how you like to do business."
— Josh Baker, founder and co-chairman of BOWA
A concave glass tile backsplash surrounds the durable, brown-toned quartzite counter. "Quartzite doesn't stain easily," said Brown. "It is strong like granite, but is more expensive."
The Braswell team also got a nod for energy efficiency for this project, which was named "NARI Green Project." Brown noted that the team installed energy efficiency lighting and energy star appliances.
"The homeowners had specific criteria about wanting to meet [Leadership in Energy and Environmental Design] certification because they are dedicated to protecting the environment," said Braswell.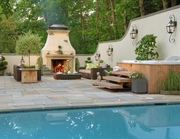 CABIN JOHN, MD., BASED firm Anthony Wilder Design/Build, Inc. received kudos in the "Residential Exterior, $100,000 and Over" category for a backyard space that includes a pool and fireplace. "The homeowner wanted four separate living spaces in the backyard," said company spokeswoman Danielle Frye. "He wanted a dining room, a living room with a heat source, a place to sunbathe near his pool and a place to play cricket on his lawn."
Frye said the Wilder team, which included architect George R. Bott and lead designer Anthony Wilder, developed a backyard plan that replaced overgrown grass with flagstone and a badly worn fence with foliage to create a sense of privacy. "There is a sundeck and spaces for a sofa and dining table, but the fireplace is the focal point," said Frye. "We used really tall bamboo to shield the view from the hotel across the street."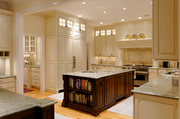 A BETHESDA HOME ADDITION garnered a top prize in the "Residential Addition Over $250,000" category for A.R.T Design Build Inc. with team member Grossmueller's Design Consultants, Inc.
"The client wanted to expand their one story house to have a separate area for [bedrooms] and create a more functional first floor with more communal spaces, the kitchen, family room [and] dining room," said Cindy G. McClure of Grossmueller's Design Consultants, Inc.
The design team added a new second floor to the home, which accommodates a laundry room, a master suite, two additional bedrooms and a bathroom. A stair tower and cathedral foyer create an open floor plan and connect the first and second levels.
"Elements of the old house, like the wide chimney on the front and the contemporary 1960 style were played upon and accentuated," said McClure. "The result is a functional home that meets the needs of today's family, remained within budget and was completed on time."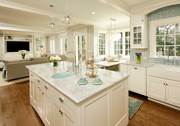 FAIRFAX-BASED FIRM RJK Construction, Inc. received top honors in the category of "Residential Addition $100,000 to $250,000" for a home in the Mantua area of Fairfax County. Company president Robert Kalmin says the homeowners' goal was to blend their interior and exterior spaces. "They wanted to make their exterior landscaping a visual point because they entertain a lot," he said. "The windows act as murals to the exterior landscaping bring the outdoors in and the indoors out."
The owners requested an open floor plan that allowed guests to move freely between the kitchen and the backyard. "They were very specific about how they wanted people to meander from the outside to the inside," Kalmin said. "We had to relocate the powder room so that people are able to use the restroom without having to go anywhere else."
An abundance of windows allows natural light to flow throughout the home. "The kitchen has red oak flooring and other colors and finishes that compliment the natural scenery outside," said Kalmin.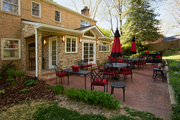 A MCLEAN KITCHEN by BOWA took top honors in the "Residential Kitchen Over $120,000" category. The homeowners were looking to create a free-flowing, light-filled space.
"Their kitchen was not as open as they would have liked," said Josh Baker, founder and co-chairman of BOWA. "They wanted to make it more integrated and useful for the family."
To accommodate a larger kitchen, the design team, which included BOWA's George Hodges-Fulton, built an addition and added a sitting room, screened porch and additional windows to allow an abundance of natural light to stream into the space. The new kitchen also included a butler's pantry and a family dining area.
What is the key to turning one's home into an award-winning, showcase house? Baker, who founded BOWA with his college friend Larry Weinberg, says an open dialogue is essential to a successful remodeling project. "The key is finding a person or company that you communicate very, very well with and whose process is in line with how you like to do business," he said. "This is a customer service business. It is not just a construction business. The entire process is important, not just the end result."