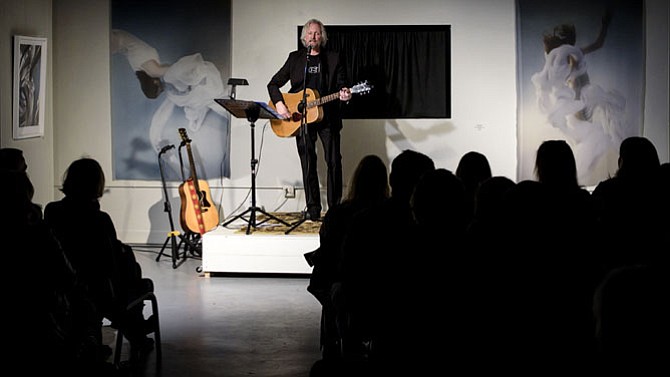 Fans of the 1970s-80s symphonic rock band Electric Light Orchestra gathered with violin aficionados at ArtSpace Herndon, 750 Center St., located within Herndon's arts district, on Saturday, Feb.11 for a sold-out Valentine's Day Concert. The event showcased Columbia recording artist and guitarist-songwriter Parthenon Huxley accompanied by indie rocker and violinist, Ben Hoyt, graduate of Baltimore's Peabody School of Music.

Huxley is a rock guitarist and a member of THE ORCHESTRA, a band featuring former members of the Electric Light Orchestra and ELO Part II. The band is noted for their combination of electric rock instruments with orchestral instruments resulting in a fusion of Beatles pop and rock with classical overtones. According to Huxley's website, his records as a solo artist and band leader have earned three Album of the Year awards as a No. 1 single on Rolling Stone Magazine's Exclusive Download chart.
During the first half of the Valentine's Day Concert, Huxley performed love songs and hits by ELO including "Evil Woman" and "Showdown." Huxley also performed selections from his second P. Hux album, "Purgatory Falls" that chronicled the two-year period after the death of his first wife.
After hearing Huxley play selections from "Purgatory Falls", local music lover Michael Betti described Huxley's voice, "It is a pure, perfect, pop voice." Ben Hoyt, Huxley's first call sideman as a violinist, accompanied Huxley during the second half of the performance. Using the voice of his violin strings, Hoyt brought home a dreamlike, lyrical magic to the duos' music, complementing Huxley's body of work and abilities.
Joanna Simon of Reston sat in the back row. She said, "It's very hard to play the violin and guitar together, but I think this works because the violinist is so talented." She added: "Hoyt adds a high energy, and his playing makes the room even more alive."
Reached for comment after the performance, Signe Friedrich, executive director of Arts Herndon, the nonprofit organization that operates ArtSpace, said it was apparent that the audience had been highly engaged. "Teenagers in the audience like Sophia Skiavo and Elise McCue have posted live videos on Instagram; others like Elise Cosmo posted live Facebook video and photos."
ArtSpace is open 11 a.m.-4 p.m. Tuesday- Saturday and is closed Sundays and Mondays. For more information about events, exhibits, classes, rentals or volunteer opportunities at ArtSpace, 750 Center St, Herndon, visit www.artspaceherndon.org or call 703-956-6590.