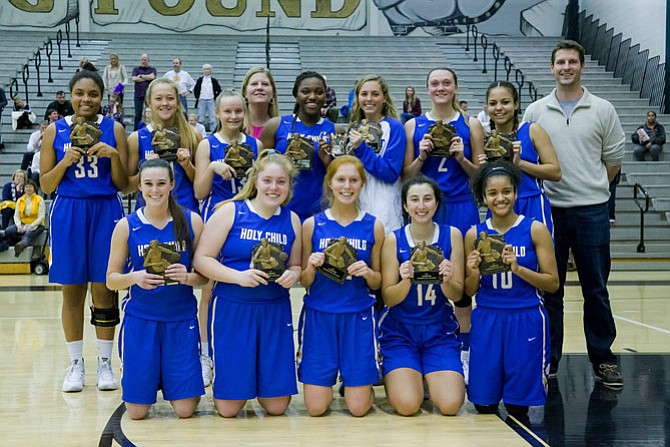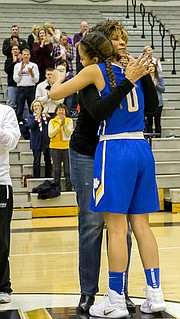 The 15th annual Ourismann Chantilly (Va.) Toyota 2016 Bulldog Bash was hosted by Westfield High School Dec. 27-29. Eight teams — seven from Northern Virginia and one from Potomac, took to the hardwood: Holy Child, Centreville, Westfield, Lake Braddock, Forest Park, James Madison, West Springfield and Thomas Jefferson.
1st Round Games
James Madison defeated Centreville 46-41, Holy Child defeated West Springfield 71-44, Lake Braddock defeated Forest Park 54-22 and Westfield defeated Thomas Jefferson 50-45.
2nd Round Games

Centreville defeated West Springfield 61-24, Holy Child defeated James Madison 40-35, Thomas Jefferson defeated Forest Park 63-35 and Lake Braddock defeated Westfield 48-24.
3rd Round Games
West Springfield defeated Forest Park 58-29, Thomas Jefferson defeated Centreville 45-42 James Madison defeated Westfield 44-39 and Holy Child defeated Lake Braddock 45-33.
Championship Game
Lake Braddock defeated Forest Park and Westfield to advance to the championship game with Holy Child who defeated West Springfield and James Madison. In the 1st quarter, Holy Child got off to a fast start taking a 20-4 advantage, including two 3's by Marley Burgess. In the 2nd quarter Holy Child again outscored the Lady Bruins 16-10 to take a 36-14 halftime advantage. In the 3rd quarter Lake Braddock would score 15 while holding the Holy Child offense to 2 points. In the 4th , the two scored a combined 11 points and Holy Child pulled out the win 45-33 clinching the 2016 Bulldog Bash. Lake Braddock was led by Kathryn Esper's 12 points and Devin Sheridan's 9. Holy Child was led by Marley Burgess, who scored a game high 15 points including 5 three point baskets and Tori Yantsos added 9 points. Holy Child improves to (7-1) while Lake Braddock falls to (5-4), to claim the runner up.
The Erin Peterson MVP was awarded to Holy Child's Tori Yantsos. Yantsos averaged 8 points for the tournament. The award is named after Erin Peterson who died in the shooting at Virginia Tech on April 16,2007. Erin's number 45 was retired at Westfield. Donations can be made to the Erin Peterson Fund at www.erinpetersonfund.org . Checks can also be made and sent to: The Erin Peterson Fund, 5309 Braddock Ridge Drive, Centreville, VA 20120.
Kate Esper received the Outstanding Player Award. Espers averaged 13.6 points per game in the tournament.
Holy Child's Jada Dapaa was selected to the All Tournament Team. Joining Dapaa for the all Tournament team were Ruth Axton, Centreville High School; Tory Martin, Westfield High School; Diana Miskell, James Madison High School; Sarah Conforti, James Madison High School; Sarah Dickson, Thomas Jefferson High School; Savannah Wilson, Thomas Jefferson High School; and Molly Sharman, West Springfield High School.