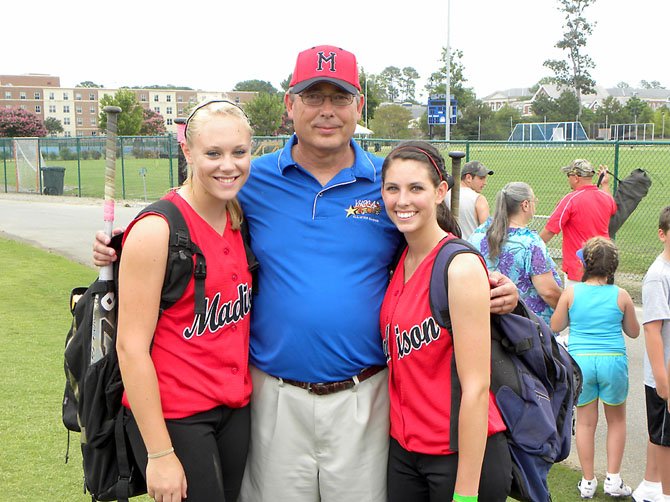 Vienna — The Madison High girls' varsity softball team won its own 'Madison Spring Break Tournament' last Saturday afternoon, March 31 with an impressive 8-2 finals win over Centreville High.
That same day, in a morning game versus Annandale High, the Warhawks defeated the Atoms handily, 19-0, in a semifinals contest of the tournament. That set up the title game between Madison and Centreville, which had defeated West Potomac in the other semifinals matchup.
The participating schools in the Madison Spring Break Tournament were: Lee, Edison, Annandale, Mount Vernon, West Potomac, Centreville, and the host Warhawks.
For the season, Madison stood at 7-3 following the finals win over the Wildcats.
"We are young with a freshman and five sophomores starting," said Madison High head coach John Schneeberger, of his squad. "We are playing better each game. We took Stone Bridge to nine innings before losing, 5-4."
That Liberty District extra innings loss to the Bulldogs of Stone Bridge came on Tuesday, March 27 at Madison.
Madison's wins thus far have come over Centreville (twice), including a 13-1 road victory over the Wildcats in the season opener on March 16; at Fairfax, 9-1, on March 20; over Mount Vernon, 4-1, in first round action of the Madison Spring Break Tourney on March 22; at home over Marshall, 15-0, on March 23; at home over South Lakes, 9-3, last Thursday, March 29; and the tournament semifinals and finals wins over Annandale and Centreville, respectively, on Saturday.
Madison's losses have come against some of the region's toughest opponents in Westfield, 4-2, in a contest at the Westfield Tournament on March 24; McLean, 4-0, on the same day at the Westfield tourney; and the extra innings setback to Stone Bridge.
Next week, Madison will compete in district road games at Langley on Tuesday, April 10 and at McLean on Friday, April 13. Both games are scheduled to start at 6:30 p.m. The Warhawks' next home game is scheduled for Tuesday, April 17 versus district opponent Jefferson.
Schneeberger is expecting the Liberty District to be highly competitive as usual but believes Madison will continue to improve throughout the regular season and be playing top level ball by the postseason.
"Madison will compete come district and region tournament time," said the coach, whose Warhawks captured the Northern Region crown two years ago. "The Liberty District as a whole is a lot better overall. Stone Bridge, McLean are the top teams. Langley and Fairfax are off to good starts."
MADISON'S LIBERTY DISTRICT win over South Lakes last week snapped a three-game losing streak. It was a special game for Madison, which was celebrating 'Coaches Night.'
Several Madison High athletic coaches, during pre-game ceremonies, were recognized for the positive impacts they have made on Warhawk student-athletes. Each of the coaches recognized was honored with the American Legion Scholastic Award. Those selected were nominated by one or more of the softball varsity student-athletes.
Those coaches who earned awards were: Glenn Adams (boys' tennis); Amanda Counts (girls' lacrosse); Mark Gjormand (baseball); Kirsten Roberts (girls' basketball); Andrew Baird (baseball); Doug DeVault (softball); and Grant Massey (girls' soccer).
Following the pre-game festivities, Madison softball treated its' fans to the district win over the Seahawks of Reston. Madison's Tori Lipnicky went 2-for-3 with an RBI and stolen base to lead the offense. Other solid games came from: Ally Grasso (triple); Kristyn Buscemi (base hit, RBI); Mary Bolinger (base hit, walk); Jackie Yahner (base hit, 2 stolen bases); and Hallie Goldsmith (stolen base).
On the mound, pitcher Elizabeth Fallas tossed a complete game for the victory, giving up eight hits and only one earned run. She had nine strikeouts and did not issue any walks.

EVEN THOUGH Madison lost its March 27 game to Liberty opponent Stone Bridge, the Warhawks had good showings from a number of players. Kelsey Ross, on the mound for Madison, struck out seven Bulldog hitters.
Both teams battled for nine innings until the Bulldogs were able to pull out the 5-4 victory. At the end of seven regulation innings, the score was tied at 2-2 as a result of some great pitching and solid defense on both sides. Ross and pitching counterpart Kelly McDaniel for Stone Bridge were both on top of their games for their respective teams. Ross, in her outing, allowed seven hits and walked just one, along with her seven K's, in nine innings of work, while McDaniel gave up nine hits, walked four and struck out five for her team.

Ross also led the way on offense for the Warhawks, going 2-for-4 with a double and an RBI. Ally Grasso also had a good night at the plate, reaching base three times (2 hits, including a double). Also for Madison, Kat Olson had two hits and drove in a run, while Kristyn Buscemi, Elizabeth Fallas, and Mary Bolinger contributed Madison's other hits. Lipnicky reached base twice with 2 walks, while Brittany Powers also reached base with a walk.

At the Westfield High Spring Tournament, Madison lost low-scoring games to host Westfield, 4-2, and McLean, 4-0. Both games were played on Saturday, March 24.
The games took place despite poor weather conditions due to rain. The opening game loss to Westfield was the first setback of the season for the Warhawks, who managed only two hits - one by Ally Grasso and the other by Tori Lipnicky. Both Warhawk players also drove in their teams' only runs. Kat Olson and Brittany Powers each walked twice for Madison, and free passes also went to Mary Bolinger, Kristyn Buscemi, Lipnicky and Grasso.
Neither pitcher fared well on the mound, as both Westfield and Madison struggled with a wet ball all game. Ross suffered her first loss of the year, giving up five hits and issuing four walks while striking out six Bulldog batters.
In the second game that day, the Warhawks lost a rain-soaked, five-inning game to their Liberty District rivals, McLean, 4-0. The game did not count against the district standings due to the fact it was a spring tournament outing.

The Warhawks could not manage a hit against McLean, and committed two defensive errors that led to two unearned runs. Kat Olson reached base in both of her plate appearances, drawing a walk each time.

Elizabeth Fallas pitched five innings, giving up four hits and two earned runs. She also walked six batters and struck out two and suffered her first loss of the season.