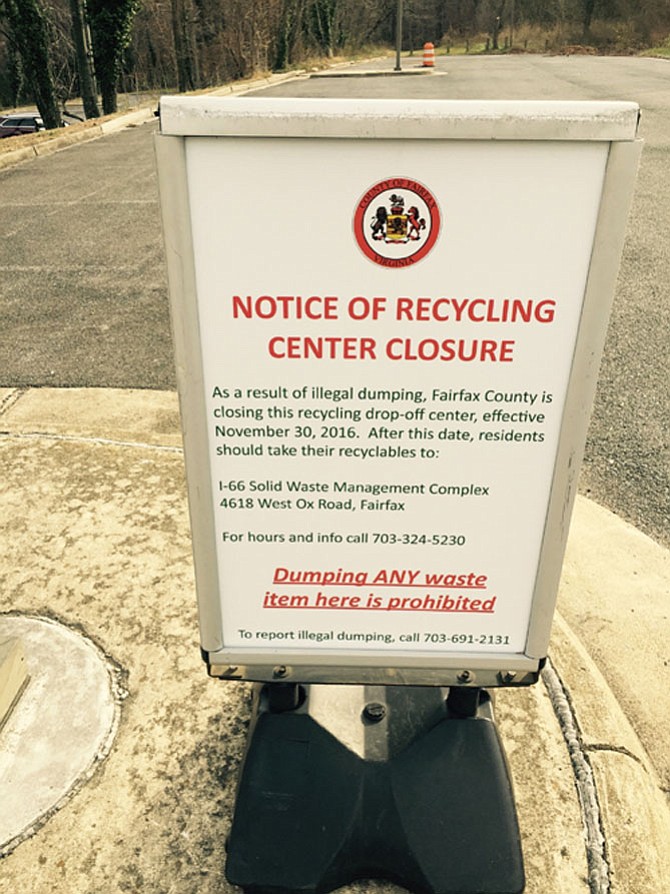 Does Fairfax County actually care about recycling? Based on recent experience, I suggest that the answer is a mixed one. Yes, most of us residents are furnished with the blue roll-away bins that we fill with recyclable materials and put out by the curb each week, but the county has recently closed its eight stand-alone, non-attended recycling centers like the one that existed on the hill behind the Mount Vernon Recreation Center.
I spoke this week with the director of solid waste management for Fairfax County, a phone call facilitated by a staffer for Supervisor Dan Storck. The staffer had responded to my inquiry about why the recycling center had been closed, with a notice at its site directing would-be patrons to proceed to West Ox Road if they had items to recycle. (For the record, the West Ox location is way out I-66, some 28.5 miles from my house.) The center had been closed, said the sign, because people were dumping trash there.
It was clear from the beginning of the conversation that the Fairfax County employee wasn't buying anything I was selling. I told her that many people used the recycling center and that the reason people dumped items like mattresses, old TV sets, and broken furniture next to the recycling bins was because there was nowhere else to put them. What if the county had placed a dumpster there to accept trash, I asked, rather than closing the recycling center? The logic on the sign simply did not make sense to me, I said.
Her response was a litany of reasons why I didn't understand waste management, while she had 38 years of experience. The eight stand-alone, non-manned recycling centers collected "only" 2200 tons of recyclable materials last year, she said, a small fraction of the total. And why didn't I just use the blue bin, she asked. I explained that we did use the bin, and that we filled it every week, with recyclables left over. That's when we went to the place behind the rec center. She then told me that I could simply leave materials outside the bin, and it would be picked up. Not so, I said, as such items would blow around the neighborhood and into the parkland across the street. She suggested that I could drive to the Furnace Road facility near Lorton, missing entirely the idea that those of us who care about preserving scarce resources don't want to trek down I-95 almost to Prince William County every time our recycling bin is full. Conserving gasoline is also part of our ethos.
Our conversation ended with me trying to make the point that earth's resources are limited, that recycling is a very good thing, and that she clearly did not understand the public on this one. I asked whether there had been any kind of public notice or discussion before the eight centers were closed. Her silence gave me the answer. Her retort was that she had heard from only 20 county residents out of a million people who lived here. Frankly, I said to her, I think 20 people who cared enough to contact the county is a large number.
Maybe I'm totally wrong, and maybe there are only 20 people in Fairfax County who care about this issue. But I am guessing that there are way more than 20 people who believe that making it convenient for people to recycle bulky items like cardboard boxes is good for the county and good for the earth. I hope that the Board of Supervisors will reverse this ill-conceived decision.
Col. James T. Currie, USA (ret).
Alexandria