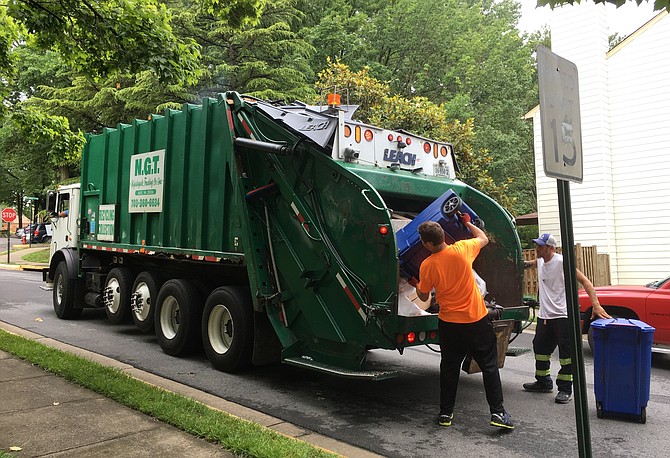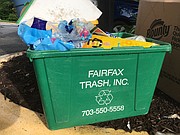 Recycling has hit some gray areas lately, impacting the common mentality of throwing things in the recycle bin. At one time, all plastics, glass and aluminum were a no-brainer, so filling the bin was easy.
The rules are changing though and it turns out that half of what was headed to be recycled now ends up in the landfill. Contaminated materials must be removed, glass is problematic, and not all plastics can go through the machine. Blaming Fairfax County is not entirely justified.
Fairfax County does collect the recyclable material for only 44,000 households living in sanitary districts, said Matthew Kaiser, Information Officer for the Fairfax County Department of Public Works and Environmental Services. But this is only 10 percent of the county and the remaining population is served by private companies, like Republic, American, Trash Away, etc. Then the county has a contract with American Recycling Center to process recyclables, and they are sorted.
THE COUNTY operates two residential recycling drop-off centers: the I-66 transfer station in Fairfax and the I-95 landfill complex in Lorton. Material collected there (plastic bottles, metal cans, mixed paper, cardboard) is delivered to American Recycling Center by truck. Glass is transported to a county glass processing plant at the landfill complex. Both sites accept electronics, cooking oil, scrap metal, and household hazardous waste, all of which is disposed of through private vendors, said Kaiser.
Now, a "purple dumpster" is the latest accessory for recycling glass, and things get complicated. Apparently, glass cannot be included with the others, as it once was, so hauling it off to the purple dumpster throws a twist into the whole process.
Supervisor Pat Herrity (R-Springfield) supports recycling and dedicated a recent newsletter, "The Herrity Report," to the recycling efforts in the county. He starts out with some "surprising truths," in his newsletter. For example, "the surprising truth is that all of the glass you have put in the curbside single stream recycling bins has been going to the landfill for many years," he says, and notes it's better to drive the glass yourself to the Lorton or I-66 recycling center. Plastic bags clog the recycling machines, so instead of putting them in the bin, take them to the grocery stores and put them in a bag collection bin which is usually out front.
"People see the benefit in recycling," Herrity said.
Herrity did mention that the purple dumpsters for glass is a good idea, and this program will be expanded. "We're going to start putting purple bins at supervisor's offices," he said, so it will be easier for people to take their own glass for collection. Fairfax County is also crushing the glass which in turn makes it a substance like sand, which is how glass is made in the first place. Then it can be used in building materials. "Not a big market for recycled glass," Herrity said.
Kaiser did note a program the county is embarking on a pilot program with local wineries to have receptacles like purple bins at the wineries so the customers can return the empty bottles on site. They are trying this at the Bull Run Winery near Centreville, and the glass is taken to Lorton, crushed and used in other projects. "Glass processed in Lorton has been used in two construction projects so far and is being tested as a suitable material for roadbeds," said Kaiser in an email.
THE ROAD to the I-95 landfill is one of the construction projects where they are using a mix of recycled materials to construct and repair roads as part of the county's overall push to deploy Smart Cities technologies.
Two material blends are being tested: a 40/60 mix of ash and crushed glass, and a 25/75 mix of ash and recycled concrete. Approximately 400-500 tons of recycled material are being used to fill 2,000 square yards of roadway, the county website stated. Crushed glass is also being used as pipe bedding at Flatlick Branch in the Sully area near Chantilly.
350 Fairfax
There is a group in the county that is focusing on recycling called "350 Fairfax," and they are looking for ways to enhance the county recycling efforts. The "Plastic Free Challenge," is one effort they've started along with other organizations, asking Fairfax County residents to pledge to refuse single-use plastic bags, bottles, and straws.
"For those who were already refusing bags, bottles, and straws, we offered a list of about 40 other ways they could reduce their single-use plastic consumption," said Julie Kimmel, of 350 Fairfax. "We had more than a thousand participants, including local schools, small businesses, and congregations, and we're hoping to reach a wider audience when we do the Challenge again this October," she said.
"Dual stream recycling," is one effort Kimmel supports, and this means picking up separated materials on recycling day, cutting down the possibility of contaminants getting in the wrong pile. Montgomery County, Md. uses this to some extent, with one truck with two compartments.
For Fairfax to adopt this method "would almost certainly cost more up front," admitted Kimmel, but it would save money and be environmentally advantageous over the long run, she said.
Regardless of all these efforts, some recycling bins do get filled up with material that does not belong there and ends up in the landfill anyway. Herrity pointed out this "aspirational recycling" which increases the cost for recycling, he said, and listed a few items that are frequently found in the bins, but should not be. Those items include diapers, garden hoses, coolers, Styrofoam, food, car seats, and batteries.
"When in doubt, throw it out," he said.
Recycling Recommendations
Here is a brief list of items and recycling recommendations. See the county recycling website for more details: (https://www.fairfaxcounty.gov/publicworks/recycling-trash/residential-materials)
Mattresses & Box Springs - donate if possible, but if not, take to landfill
Plastic - reuse if possible, and take bags to the grocery store bin. Refer to the county list of what other plastics are accepted
Furniture - donate if possible, but if not, take to landfill
Paint - If Latex, let air dry and throw container in the regular trash; if oil based, take to Household Hazardous Waste Site.
Pizza Boxes - Throw in the trash
Paper - recycle some, shredded paper goes in the trash
Glass - purple bin for most
Styrofoam - packaging "peanuts" can be reused by some UPS stores, the rest goes in the trash
Wood & Lumber - Paneling, wood can be taken to the I-66 Transfer Station or I-95 Landfill Complex for disposal. Must not exceed eight feet in length.
Electronics Recycling - some can be "e-cycled", others to the landfill
5 Ways
Wishful recycling harms the recycling process; here are five ways you can help:
• Only place empty, clean, dry, loose items in your bin
• Dump the Filthy Five! These five items should never be placed in your recycling bin:
– Plastic bags
– Shredded paper
– Tanglers (hoses/hangers/cords)
– Styrofoam containers
– Dirty diapers
• Purchase products made with high recycled content
• When in doubt, throw it out
• Make an effort to reduce the amount of waste you create
For more, see https://www.fairfaxcounty.gov/news2/adjusting-to-new-recycling-realities-5-ways-you-can-help-stop-wishful-recycling/