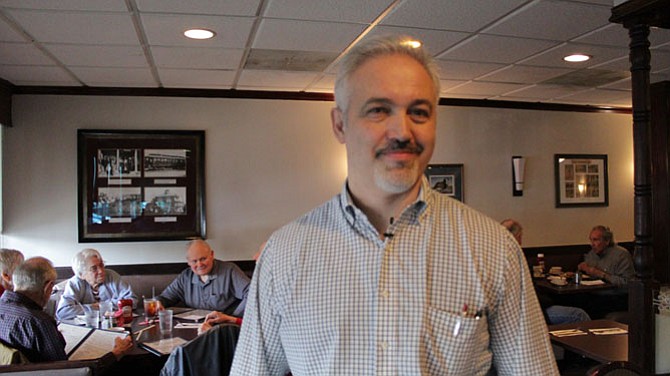 McLean — A family-owned restaurant in the Salona Village Shopping Center on Chain Bridge Road has been serving McLean for the last 47 years and has become a meeting place for the area's high-profile elected officials, including Virginia's governor.
"The greatest restaurant in the United States of America, the best breakfast," Virginia Gov. Terry McAuliffe, said of the restaurant in a video that was posted to his social media accounts on Jan. 4. "Tell yah, the best food in all of America."
McLean Family Restaurant was McAuliffe's Virginia Business Spotlight of the Week the first week of the New Year.
"I was very surprised and thankful that he did that," says George Kapetanakis, owner of the restaurant.
It wasn't McAuliffe's first time dining at the establishment. Before he was elected governor, he used to live in McLean and he and his family were regulars, says George.
As McAuliffe noted in his video, the restaurant is well-known for offering its breakfast menu all day, but that hasn't always been its claim to fame.
The restaurant has gone through several transformations, according to Peter Kapetanakis, the restaurant's general manager and George's brother. It used to be a small deli before it became a restaurant in the 1970s. A bar that served customers alcoholic drinks in the basement was also opened in the venue, but has since closed, now offering ample storage space for the business.
What has always been true is that the business has been known for its "American with a hint of Greek" bent, says Peter.
The business was started by the Kapetanakis' uncles, George Vroustouris and Sam Sampris, who were both born in Greece, says Peter.
Patrons can order the traditional ham, bacon or sausage omelet or try something a little different, like the restaurant's Greek omelet with feta cheese, onions and tomatoes, or its signature M.F.R. omelet with gyro meat, feta cheese and tomatoes.
"Gyros and souvlakia are our main Greek dishes," George says.
Rizos Hadoulis, the restaurant's chef of 17 years, slices the meat for the restaurant's gyro platters and sandwiches fresh off a vertical rotisserie in the kitchen and serves it with warm pita bread, tomatoes, onions, feta, tzatziki sauce and French fries.
Souvlaki, which is meat marinated in garlic, olive oil, lemon and salt and pepper that is served on skewers, are served with pita bread, tomatoes, chopped lettuce, feta, tzatziki sauce and French fries.
"We try not to cut corners and buy quality products," George says.
Many of the restaurant's patrons come back for years and years.
"It's a meeting place," George says.
Washington insiders like Former Speaker of the United States House of Representatives Newt Gingrich and Former Secretary of State Colin Powell would frequent the dining room once a week, according to the Kapetanakis brothers.
"It's been very satisfying for me for the restaurant to be successful for all of these years," says George. "It's because we're fair and reasonable to customers. We try to treat them like family."
George is looking forward to his retirement. He has two children, 30 and 28, as well as a son-in-law who are involved in the business.
"We'll be following the same formula for a while because people seem to like it, but my kids will take over eventually," he says.