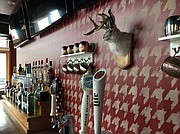 Every month in Arlington, stores and restaurants close their doors for the last time while others down the street open for the first time. In the Metro corridor, Rosslyn, Ballston and Crystal City have all seen new retail move into the area.
Rosslyn
Mary-Claire Burick, president of the Rosslyn Business Improvement District, said the primary focus in that region has been gaining new commercial tenants. The primary new residents of Rosslyn's office space are tech sector employers, like Snag-a-job, Eastern Foundry, and Grant Thornton. Burick says a big part of this is commercial tenants looking for nearby amenities like retail and restaurants for their employees.
According to Burick, Barley Mac at 1600 Wilson Blvd. has been one of the most popular new restaurants in Rosslyn within the last year. Barley Mac is a restaurant and whiskey-focused bar from the same owners of A-Town and Don Tito.
"They're known for their whiskey and they serve some great craft cocktails," said Burick. "It's very high end; square cube of ice in a glass-type, with 14 draft beers."
Burick also noted that Barley Mac is open until 2 a.m., which is uncommon in Arlington. Burick said it's part of the area's growing late night scene.
Just down the street, the most recent new restaurant to open in Rosslyn is Quinn's On the Corner, at the eponymous corner of Wilson Blvd and N Quinn St. The restaurant opened earlier in January.
"It's a mix of Belgian and Irish food, with beers, wine and cocktails," said Burick. "It's also got several TVs, so it's a nice sports spot in the area."
Ballston
As the Ballston region braces for the redevelopment of the mall, a new crop of restaurants and retail spaces have opened up around the area. At 4238 Wilson Blvd., Punch Bowl Social is expected to open with the rest of the new Ballston Mall in Fall of 2018. A press release from the company said the restaurant will include eight bowling lanes, one bocce court, and three private karaoke rooms.
Wahlburgers will move into Ballston Point 4300 Wilson Blvd in the space formerly occupied by the Ted's Montana Grill. Ballston BID CEO Tina Leone said the Wahlburgers is expected to open in May.
Sometime in early 2017, Leone says Stageplate Bistro will open in the Virginia Tech Building at 900 N Glebe, current site of an Applebee's and formerly Il Forno Restaurant. Stageplate Bistro will focus on moderately priced American cuisine.
Crystal City
Some of Crystal City's latest developments have moved underground. Total Party, a costume, decoration and general party supplies store has recently opened in the underground Crystal City shops at 1750 Crystal Dr.
Also in the underground shops, ArtJamz social art scene is now open. ArtJamz hosts freestyle paint parties, as a children's activity, an adult social one, or a work event.
Angela Fox, president and CEO of the Crystal City BID, said one of her favorite recent retail openings in the area was the transformation of the California Tortilla at 2450 Crystal Drive into KBQ Korean BBQ & Bar. The restaurant offers a variety of Korean dining, from barbecue to tofu, and a bubble tea shop. Fox says the owners are the same as the ones from its days as California Tortilla, but the concept of the restaurant has changed.
Anyone looking to work off their Korean lunch could also check out the new Earth Treks Climbing Center at 1235 S Clark St. According to Fox, the center holds a 45,000-square-foot climbing gym, with bouldering and rappelling options.
"It's been a wonderful new addition to Crystal City," said Fox.