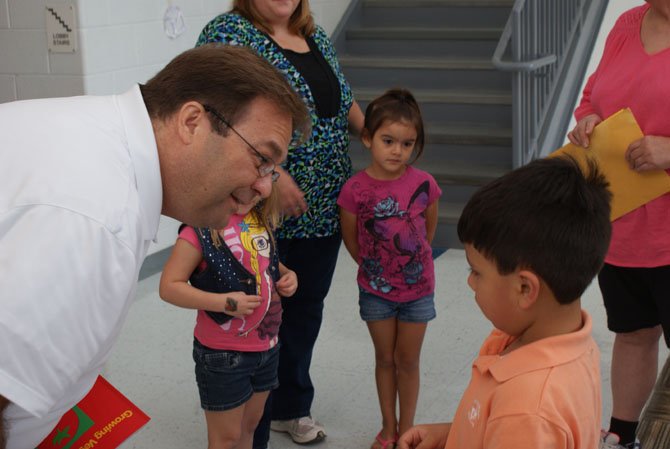 Fairfax — In his first State of the School report, Principal Dan Phillips praised Providence Elementary School staff, students and parent community declaring, "Providence is a very, very special school." Phillips and his administrators, Assistant Principals Janice Suitte and Harry Belcher highlighted rising test scores, student growth in reading and laid plans to offer Local Level IV advanced academic services to students.
Principal Phillips also celebrated his school's diverse and active family community. "Providence is a school where children from all over the country and all over the world come to our school from all different walks of life and create one community of learners." Phillips thanked the PTA and the PES staff for its enthusiastic participation and support of family events such as Heritage Night, STEAM Night, Literacy Breakfast and All Pro Dads. "Families feel welcomed and engaged and come in to the school to support their children," said Phillips at the regular school board meeting on Jan. 9.
Assistant Principal Belcher highlighted increased test scores and the successful reading program, Reading Intensive Care Unit or RICU. The program, began by Providence ES staff, provides individual attention to students that are not reading at grade level. Last year 33 students in the first grade were not reading at grade level. Through the RICU program and support from classroom teachers, 82 percent of the students reached or surpassed benchmarks on the Developmental Reading Assessment.
Assistant Principal Janice Suitte discussed the award winning Science Technology Engineering and Math Lab (STEM. Lab) and how the lessons learned in the lab, such as collaboration, critical thinking and resiliency are being applied in other classes as well.
Principal Phillips also stressed the success of his staff. He mentioned a number of staff members that will be presenting at various regional and national conferences throughout the year on subjects such as the RICU program and STEM Lab.
Finally, Principal Phillips announced he and his staff are looking into bringing Local Level IV Advanced Academic services to those students who qualify. Local Level IV at Providence ES would allow students to stay in their base school instead of having to transfer midway through their elementary school years to an elementary school outside of the Fairfax pyramid.
"One of the happiest days of my life is when I was selected as principal of Providence Elementary School," concluded Phillips. "I feel so fortunate to be in the City of Fairfax. The City provides funding to supplement teacher development, reduced student field trip fees, offered summer programs such as Young Scholars and help fund our wonderful STEM Lab."