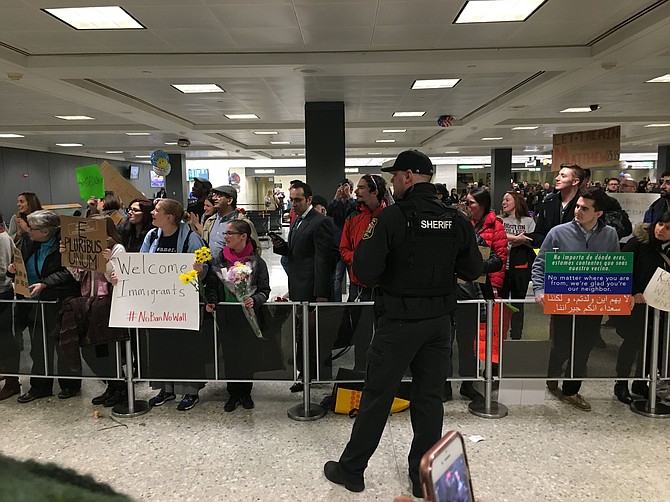 I am writing this letter to applaud area lawyers and to question why the elected representative of this area, Barbara Comstock, has chosen to stay silent in the face of grave threats to our nation.
For those of us who care about America's future and about America not repeating the mistakes of the past, this has been a very bad week. Events this week highlight the importance of character and voice.
For example, why hasn't Barbara Comstock spoken out against a nominee for Secretary of Education who is so dangerous to the public school system nationwide and here in her District? At the beginning of every school
year, my children are greeted on their first day at Great Falls Elementary by a member of her support team and when I have voted in the past at local schools I have been greeted by members of the Comstock family, but those gestures are meaningless relative to her silence on Betsy DeVos this past week.
Similarly, the night after President Trump signed an Executive Order banning migration from seven Muslim countries, the Dulles parking lot filled with the cars of lawyers who felt compelled to be the voice for those detained. All sorts of lawyers answered the call—yes, legal aid lawyers and public interest lawyers but also lawyers from some of the most powerful white shoe law firms. Some offered to give legal advice, others to bring copies of intake forms. They were acting to defend the country from an action that struck against the nation's ideals of non-discrimination and rejection of religious persecution. As much as a group of lawyers acting together can be, it was beautiful. But who was silent—even when some Republican representatives were not—and through her silence failed her constituents: Barbara Comstock.
Ezra Rosser
Great Falls