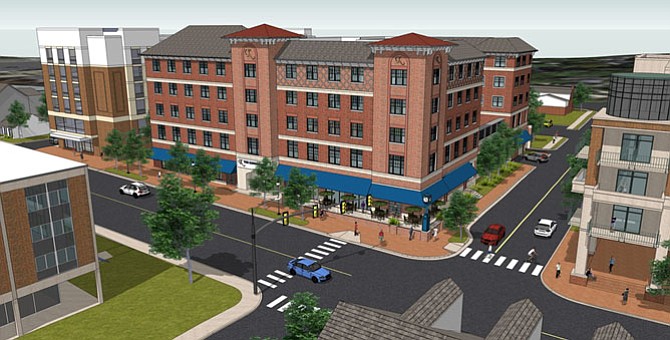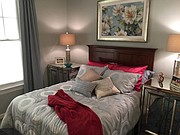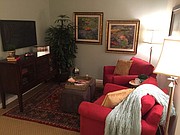 One of the most heart-wrenching decisions that Denise Schossler, her two siblings and her 95-year-old mother had to make was whether or not to move her into an assisted living facility, leaving the home where she's lived since 1954. Physical limitations and a need for social interaction drove the decision to relocate to the newly opened Kensington Falls Church.
"She needs more social interaction than she gets alone in her home. She's someone who's had an active social life, but now it's just television and books." — Denise Schossler
"My mother has managed to stay in her home all this time with the help of an aide who comes every day, but she realized that it just couldn't continue. One of the main things is the isolation and the loneliness," said Schossler. "She needs more social interaction than she gets alone in her home. She's someone who's had an active social life, but now it's just television and books."
A dearth of social interaction is one of the factors that can lead seniors into assisted living facilities. In fact, a recent study published in the Journal of Gerontology shows that seniors living in assisted living facilities have fewer unmet needs such as companionship, help with cooking, bathing and doing laundry than those who live independently. However, the survey of more than 4,000 people over the age of 65 shows that even in such retirement communities, unmet needs still exist. To address this challenge, local gerontology experts say that families must determine whether a loved one's needs meet the criteria for assisted living candidacy and once placed, work to ensure that those needs are being met.
"In counseling families making this difficult decision, I focus on safety factors for the patient and other family members," said Maureen Moriarty, D.N.P., assistant professor of nursing at Marymount University in Arlington. "Often cognitive impairment is the reason for assisted living. Perhaps memory is affected so the patient can no longer safely drive or remember the steps in carrying out activities of daily living such as cooking, bathing or management of finances."
In making this decision, an evaluation by an objective gerontology expert can be necessary, says Patrice Winter, DPT, assistant professor at George Mason University in the Department of Global and Community Health. "They come out and evaluate the house and the person as well," she said. "You have an objective, unemotional person instead of an adult child going, 'Mom you can't live here anymore.' and the mom saying, 'Stay out of my business.'"
Such an evaluation will show that there are times when a lifestyle adjustment is all that is needed. "Sometimes they can offer simple solutions that can make huge changes," said Winter. "Could it be that they need their eyesight and hearing checked? Or the washing machine moved upstairs" so they can do laundry more frequently?
When seeking an evaluation, Winter recommends local social service agencies such as the Fairfax County Area Agency on Aging. "The issue may not be cognitive, but the need for a living environment with more support may be triggered by physical limitations," added Moriarty. "Perhaps a chronic degenerative illness such as Parkinson's Disease has left the patient with physical care needs beyond the scope of family members."
Safety can become an issue when family members' physical limitations restrict the quality of care they are able to offer. "This opens issues not only to patient safety but also the family member may be frail or have their own physical limitations that limit their capacity to assist someone who, for instance, has balance loss," said Moriarty. "The key assessment as a clinician for me is that the family no longer has the resources to care safely for this individual in a home environment."
"If there is any question at all, the person should have a medical evaluation," added Winter. "There could be an imbalance in the system that could cause changes so a really good physical by a geriatric internist would be paramount before any drastic actions are taken."
Once a senior has moved into an assisted living facility, they often need someone to advocate on their behalf. Regular visits and telephone calls to both the family member and the staff are necessary. "You need to make sure you know what's going on," said Thompson, who recently moved her own mother into an assisted living facility. "It's OK to be a pest. I communicate with the staff at my mother's facility. She complains to me about things that she won't complain to the staff about so I have to complain on her behalf."
Even in the best of facilities, a person's needs can be inadvertently overlooked, says Thompson, so a family member's presence is necessary. "Walk around, pay attention to how other residents seem," she said. "Are they happy and engaged or are there signs of neglect?"
"Establish a relationship with those providers who will be involved in the care of your family member," added Moriarty. "Become part of the team by attending regular team meetings. Make them aware of your loved one's special needs. For example, if your family member always had tea in the morning, request that this continues."
Schossler says that her proximity to the Kensington Falls Church will allow her to be in regular contact with both her mother and the staff.
"My mother has grandchildren and great-grandchildren and we can visit her because the Kensington is just a few minutes away from where I live," she said. "My mother has already made connections with three people who will be there, so she's looking forward to moving. We happened to find the right fit at the right time."
Local Resources
Alexandria Area Agency on Aging
https://www.alexandriava.gov/Aging
Fairfax County Area Agency on Aging
http://www.fairfaxcounty.gov/dfs/olderadultservices/
Arlington Aging and Disability Services Division
https://aging-disability.arlingtonva.us/
Kensington Falls Church Open House
Feb. 1, 5 and 22, 4:30 to 7 p.m.
700 West Broad St., Falls Church