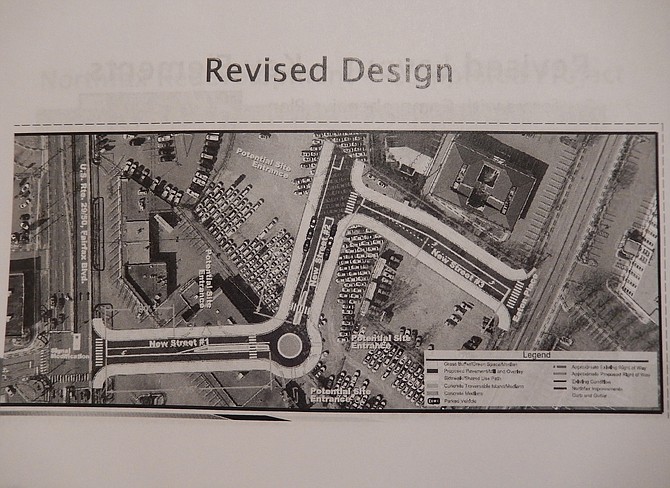 "If not now, when? We've been talking about Northfax since the '80s and '90s." — Councilman Michael DeMarco
Love it or hate it, the extension of University Drive from Fairfax Boulevard to Eaton Place will be built. The Fairfax City Council deadlocked on the matter during its June 13 public hearing, with Mayor David Meyer voting yes to break the tie and greenlight the road.
The City's Comprehensive Plan recommends the road extension as part of an expanded roadway grid to provide more travel routes and better connectivity within the Northfax area. And Fairfax received some $10 million in federal, Smart Scale funds for this project, geared toward maintaining connectivity with University Drive to the south.
"If we don't proceed with this project, this money would be returned to the commonwealth," said Transportation Director Wendy Block Sanford. And in the end, Meyer concluded that Fairfax shouldn't pass up the chance to use federal funds for the improvement of the City.
The project includes: A roundabout for mid-block traffic calming; dog-leg bend in the road; sidewalks; access to adjacent parcels; on-street parking in the center of what's being called New Street 2; and a 10-foot-wide, shared-use, bike/pedestrian path along all the frontages. Turn lanes on each side of the road lead to Eaton and Fairfax Boulevard.
Brooke Hardin, director of Community Development and Planning, said the road's design fits into the City's Comprehensive Plan. Its alignment travels through part of the existing Fairfax Shopping Center and car dealership. However, said Hardin, although Northfax would be divided by this street, large-enough land parcels would be left to develop; and with consolidation, there could be a 4.5-acre site.
Sanford said the road's design was emailed to City staff by a citizen and was also given to them by a council member. On New Street 3, she said, there'll be a stop sign, but no traffic control on Eaton. "Cars can turn left from the new street onto Eaton," she said. "But at rush hour, it'll be difficult."
Hardin said the shopping-center owners wondered if the roundabout diameter could be widened and the whole thing shifted closer to Fairfax Boulevard; and he said "both things could be done."
"If costs are more than anticipated and more than the amount of funds we have, what would we do to obtain the rest of the money?" asked Councilwoman Ellie Schmidt. Sanford said the City would apply for NVTA, revenue-sharing or other type of funds. Typically, she said, "We're able to find other funding."
Councilman Dan Drummond asked about the process going forward regarding public input and construction-award requirements. "The 60-percent design public hearing is required, but you could have more," replied Sanford. "At 100-percent design, we'd put the project out to bid and it would come to City Council for the award [of the construction contract]."
AT 60-PERCENT DESIGN, she said they'd know the exact gradient and location of the roundabout, plus where landscaping would go. Furthermore, said Public Works Director David Summers, "You'd know the slopes and grades and if you'd need retaining walls. And you can start obtaining right-of-way and moving utilities."
To take advantage of the Smart Scale funds, the project must be awarded by Dec. 31, 2020. The work would be done in 2021 and take all that year to construct; the road wouldn't be operational until 2022.
"Some people are concerned about trucks in the roundabout and turning radius," said Councilman Michael DeMarco. "If a grocery store is approved for that parcel – and no trucks are allowed on University Drive – where would truck traffic go?"
Hardin explained that, "At Fairfax Shopping Center, trucks would enter off Fairfax Boulevard into a driveway on the eastern end of the site and proceed to the north side of the property to a loading dock. They'd exit where the roundabout is, and it would be designed so that trucks would be able to use it without a curb there."
Then, following the public hearing, the Council members discussed the project before voting on it. "We appreciate every conversation and all the comments," Councilman Jon Stehle told the residents. "I think we've done a lot to address many of the concerns."
However, Schmidt said, "I don't believe we're ready to move forward on this project because we still don't know how Northfax will be developed – so we don't know where to put the road. Compact, walkable blocks are desirable and businesses gravitate there, but we still have vacancies downtown in that type of area."
"And we don't know how big an impact the traffic will have on University Drive, which is basically a residential street," she continued. "Cut-through traffic happens, and we need to address the safety concerns on the existing road. [So] I encourage my colleagues to pass on this."
But, asked DeMarco, "If not now, when? We've been talking about Northfax since the '80s and '90s." He then read a report done several years ago by a GMU professor who said the City should focus on Northfax for economic development.
NOTING THE MANY PUBLIC HEARINGS and Council meetings about this road, Councilwoman Janice Miller was disappointed in the lack of consensus. She listed the many, different viewpoints the residents have, both pro and con, and said she agrees with each one.
"I dislike all the traffic that clogs our roads and [believe] this community should redevelop in a reasonable manner," she said. "Landowners and developers should have some skin in the game and contribute a fair share in the development of their properties."

"We're moving into a new phase of redevelopment in this community, partially driven by landowners, developers and lenders," explained Miller. "How do we move this project forward with thin community support, a Comprehensive Plan still in development and a Fairfax Boulevard Master Plan over 10 years old?
"I will vote no this evening because I still believe we have too many unknowns and too much confusion from the residents about what's planned. The current divide will sink the best of projects and plans. We should consider a Visioning Plan for Northfax similar to the plan developed for Lotte Plaza at Fairfax Circle. We should meet with landowners again to strategize about future development, [plus] complete and adopt the Comprehensive Plan with community input. And City Council needs to improve its direct communication with residents."
Drummond said the road extension will benefit the City's economic development and, if Fairfax doesn't take the money, it'll go to another jurisdiction. He also believes redeveloping Northfax will encourage people to shop here, instead of just traveling through.
Councilman Jeff Greenfield said, "If we don't extend University Drive, traffic will increase on it as development continues to increase around the city. But what's most important is redevelopment of that shopping center and economic redevelopment."
However, he added, "I believe developers' dollars will eventually come into play, so tonight I'm not going to support this project. I think we cannot ignore the concerns of the residential community. I'm not hearing convincing arguments that this project won't increase traffic on University, especially south of Fairfax Boulevard."
The Council then voted, with Stehle, Drummond and DeMarco in favor and Miller, Greenfield and Schmidt against. Meyer then voted yes and the extension was approved. "The Fairfax Boulevard Master Plan was developed in 2007, but we've experienced a significant recession, plus sequestration, that had a significant effect on this city," said Meyer. "[And] costs to educate our schoolchildren have risen."
"Northfax is the single, largest, developable parcel in the City – 20 acres on each of the east and west sides of Fairfax Boulevard," he continued. "I'll continue to work with the Council on traffic issues on University and throughout the City. But I think that, in five years, the wisdom of tonight's decision will become obvious."