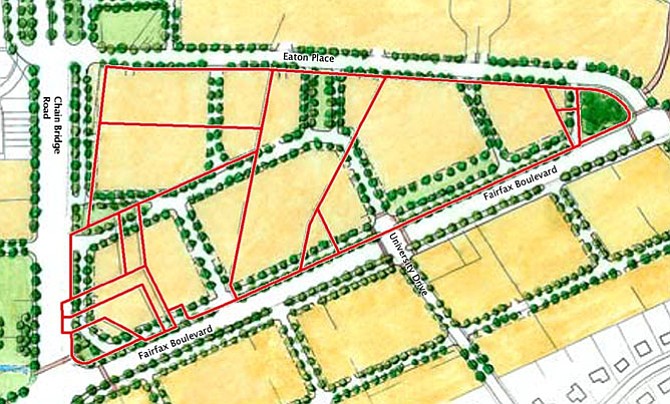 Fairfax County — The Fairfax City Council has not completely approved the controversial University Drive extension from Fairfax Boulevard to Eaton Place. But the project inched forward slightly Tuesday night when the members voted to advance it to the 30-percent design stage.
It doesn't mean the City is committed to going through with construction. It just enables the Council to have additional information before it has to make a more permanent decision to either continue with this project or scrap it altogether.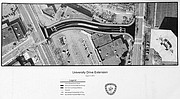 It will cost about $100,000 for this further preliminary engineering, but the work will also include more in-depth traffic studies, plus evaluation of four other design alternatives that may prove better. And until the project reaches 30-percent design, VDOT is unable to determine whether these alternatives fall within the guidelines under which the City received $10 million in federal, Smart Scale funds for this project.
"At this point, we don't like the current design," said Councilman Jeff Greenfield. "We can spend the money to get to 30 percent; and if we then don't like it, we can pull out. We did this with other projects to get the additional information we needed."
The City's Comprehensive Plan recommends the road extension as part of an expanded roadway grid to provide more travel routes and better connectivity within the Northfax area. The work would include new sidewalks, on-road bike lanes, lighting, landscaping and reconstruction of the traffic signal at the intersection of University Drive and Fairfax Boulevard.
THE EXTENSION would have turn lanes on each side leading to Eaton and Fairfax Boulevard. The alignment would travel through part of the existing Fairfax Shopping Center and car dealership, so $7.5 million of the project total would be for right-of-way acquisition from two, private property owners.
Thanks to the Council's Jan. 24 action, the design alternatives to be evaluated are:
Adding a mid-block roundabout; offsetting the interchange to the west; including either full or half-channelized entrances on one or both ends of the extension; and reducing the roadway to two lanes, removing the dedicated bike lanes and replacing them with on-street sharrows. And before any alternative can go beyond the 30-percent stage, there'd be further Council and community input.
At Tuesday night's meeting, several residents commented before the Council voted. Talia Schultz said this north-south road would be a cut-through to Eaton Place and I-66. She then gave City Clerk Melanie Crowder a petition with 322 signatures and 10.5 pages of comments urging Council to vote no on the extension.
But, said Betsy Bicknell, "It would be a transportation corridor for all the City residents. It would ease traffic for us and might lead to commercial development that would reduce all our property taxes." And Ray Girard said the extension would make Northfax more attractive to developers.
Bob Kemp, though, called it a "safety issue" for University Drive residents, as well as pedestrians crossing that street. "So let's call it a done deal and move on to another project," he said.
But Hal Creel disagreed, saying, "It's necessary to see the alternative concepts. You can't make a sound decision, yes or no, without knowing what's feasible."
"Let a private developer do this, instead," said Robert Orr. "I think the City would have to pay for the road maintenance." His wife Roberta said a cut-through would be detrimental to the neighborhood.
Before committing money to this project, said Elizabeth Epstein, the City should "make a real, bike and pedestrian-focused center between Van Dyke Park, downtown and GMU." And Andrew Margrave said the extension will increase traffic congestion everywhere, including on Rt. 123 and the Cobbdale community. He also worried that the project cost could increase greatly and the shopping center could fizzle out.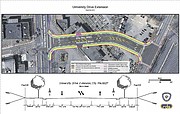 "No traffic study has been done where the kids cross to get to Van Dyke Park, and traffic is terrible at the intersection of Ford Road and University," said Brenda Kuhlman. "Go to Eaton Place at 5 p.m., weekdays, and traffic is backed up to get to I-66. It would be even worse with a cut-through."
Crowder then read various residents' letters into the record. "Most community members don't want this extension," wrote Amy Anspach. "And it's not necessary for economic development there." And both Becky Steckle and John Norce (in person) said a developer should put in an access road at his own expense.
But, wrote Jennifer Passey, moving forward would "allow us the possibility to explore options for future growth in the City. Otherwise, we'd be left in the dust by areas with more vibrant neighborhoods and [commercial development]."
If ultimately approved, said Transportation Director Wendy Block Sanford, this project would be done in 2021. If not, the City could reapply for federal funding in the future. With a 30-percent design, said Public Works Director David Summers, "You can get a much better cost estimate."
AFTER FURTHER COUNCIL DISCUSSION, Councilwoman Janice Miller made a motion to proceed with the 30-percent engineering, including evaluation of the design alternatives. Greenfield seconded. Noting that she'd discussed this project with community members and City staff over the past six weeks, Miller said residents like the idea of walking from their University Drive neighborhood to a revitalized Northfax east area.
"But residents are concerned about the speed of vehicles and pedestrian and bike safety on University Drive south," she said. And when Miller asked the audience members who didn't like the current design, most raised their hands. "I believe that, if we move forward and find a better design modification, we can work together to see if it works," she said. "If it doesn't, we can tell VDOT we're not interested in moving forward."
But until the City knows how Northfax will be developed, said Councilwoman Ellie Schmidt, "We don't know exactly where to put the roads. So I don't think this is ready to go forward. This would cause an increase in traffic on University Drive, and it'll cost us $100,000 out of our own pocket if we do the 30-percent design and then don't go forward. We'd like economic development and improvement in Northfax, but I think this is premature."
Councilman Michael DeMarco said the road's intent isn't to be a cut-through, but to encourage people to shop in Northfax. "The street should be narrow to slow down traffic, and I want sidewalks and even raised areas that act as speedhumps, as part of the 30-percent design," he said. "Then if we don't like it, we could walk away and resubmit at another time. But to walk away now would be shortsighted."
"All the comments acknowledged the need to develop Northfax, and we should develop more options for it," added Councilman David Meyer. "We need to develop consensus about it, but that doesn't mean everyone agrees. I believe an appropriate alternative can be realized, so I vote in the affirmative."
"I know it's $100,000," Greenfield told the audience. "You elect us to make tough decisions and to do that with as much information as we can. We don't have that information tonight. I'm going to support this; but if we're not able to prevent more southbound University traffic, I'll then vote against it."
The Council then approved moving forward, 5-1, with just Schmidt voting no. Miller then moved that Council initiate a traffic study on University between Fairfax Boulevard and Kenmore Drive and direct staff to work with residents as soon as possible pursuant to the City's Traffic Calming Policy.