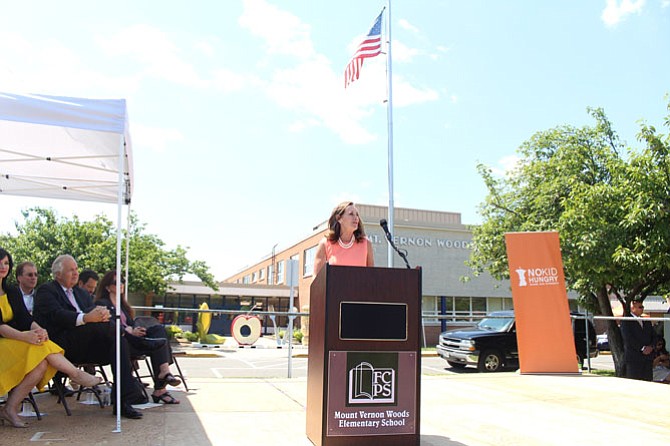 Mount Vernon — First Lady Dorothy McAuliffe and former Redskins Running Back Brian Mitchell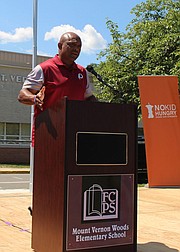 teamed up to launch the free summer meals program to prevent childhood hunger when school is not in session. The event was held June 28 at Mount Vernon Woods Elementary.
Nineteen million children in need each year are unable to qualify for free summer meals according to the USDA. McAuliffe explained that this is "far too many kids missing out on meals." McAuliffe went on to explain what summer should mean for children.
"Summer should be fun for our kids. It should be about fun, keeping our minds engaged … every child should have the opportunity to experience the joy of summerhood," said McAuliffe.
Mitchell preceded the First Lady speaking at this event. A long- time advocate of helping disadvantaged children, the Super Bowl winner founded the Brian Mitchell Foundation, which helps children in need in Philadelphia, D.C. and parts of Louisiana. Mitchell explained the importance of eating healthy to the children in attendance.
"I ate right. I became a Super Bowl winner … Make sure you eat right and you'll be successful in anything that you do," said Mitchell.
His words encouraged the crowd of children and parents in attendance as stressed the need for everyone in the community to come together.
"It takes a village to raise a child. This is the village," said Mitchell.
INOVA Hospital, the American Dairy Association North East, Fairfax County Public Schools, and the USDA helped make this program possible. INOVA's CEO, Knox Singleton, explained why the cause is so important, and he presented a check to Fairfax County Public Schools in the amount of $52,000.
The program's goal is not only to expand access to healthy food, but also to increase awareness about children who go hungry in such an affluent area like Fairfax County, which is the second richest county in the country according to U.S. Census Bureau. There were a variety of vendors who provided grocery shopping tips, nutritional information, and blood pressure exams.
Text "FOOD" or "COMIDA" to 877-877 to find a nearby location offering free summer meals to children 18 and under.