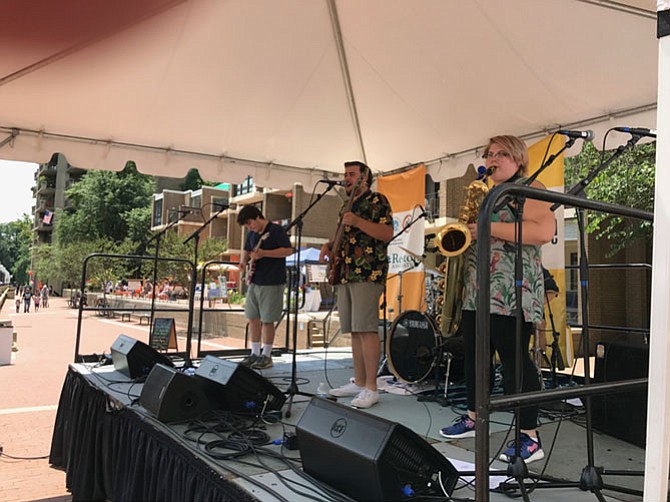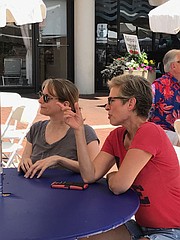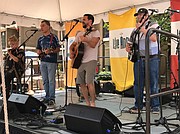 The new Lake Anne Roots Music Festival featuring modern Americana music opened Saturday, July 8 on the Lake Anne Plaza. The free event scheduled for noon-6 p.m. showcased a multi-genre line up of modern roots music- folk, bluegrass, blues, old-time, and everything in between. To make the festival even better, a pop-up beer and wine garden was right on hand.
The music started immediately after the nearby Reston Farmers Market ended, but the art vendors, located steps from the stage, kept on still selling to a brisk crowd.
Bob Vaughn and Margi Peralta sat at a covered table and slowly sipped a couple of cold drinks. When asked how they heard about the festival, they said they'd seen the event online. They decided to come to the farmers market first and then the music festival. "It's a great plan," said Peralta. "There are so many good bands here."
It was apparent the idea of going from event to event was not unique to Vaughn and Peralta. Dozens of people sat in the warm sunshine as the early afternoon wore on, enjoying the plaza-wide al fresco beer and wine garden, chatting with friends but mostly listening to the Americana music.
The line up featured six groups, with a diverse age range of performers and styles. First up was Catchin' Toads, a spirited young group, followed by Old Town Tradition, Snakehead Run, Split String Soup, Eli Pafumi and as the headliner, The Woodshedders.
Lane Anne Merchants and the Reston Community Center sponsored the festival. For a schedule of events, visit www.lakeanneplaza.com.