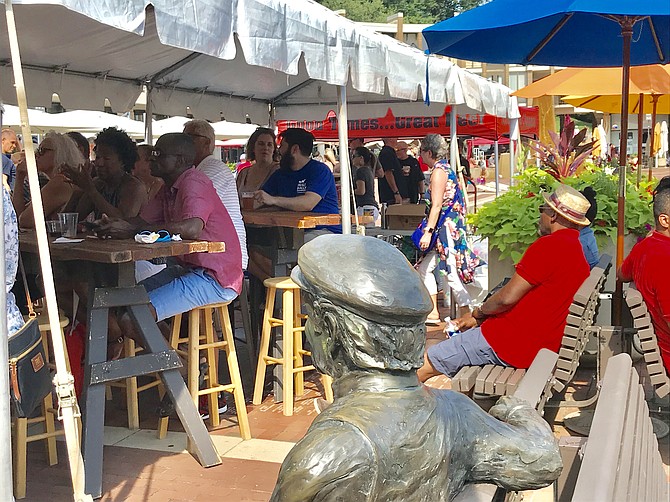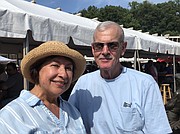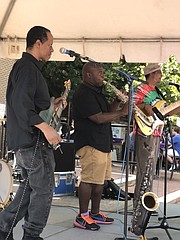 The Lake Anne Plaza waterfront bustled all afternoon and evening Saturday of the 2019 Labor Day weekend during the 13th Annual Lake Anne Jazz & Blues Fest. A go-to for music lovers, the lineup, selected by Eve Thompson and Vaughn Ambrose, Friends of Lake Anne, showcased a full spectrum of talented jazz and blues artists, many hailing from the Washington, D.C. area: BIG Whitson, VCM, Jamal Brown Quartet, Michael Pavone, Feedel Band, and Shacara Rogers and the Vaughan Ambrose Octet.
Visitor Ken Hundley, who said he called Reston home since 1987, stood on the Plaza and listened to the music a stone's throw away. With the harmonious pairings of friends, craft beers, food and the musical experience surrounding him, Hundley said, "I love this place, Reston. I'm here because I love the community, jazz and blues, and beer of course."

The festival offered a Plaza-wide beer and wine garden plus hunger-vanquishing food options. According to event emcee Andy Gable, organizers shook things up this year adding outdoor-tented tables and more. "One of the new items is seating in the shade with tables, more food vendors and a greater number of beer and wine options," Gable said.
Asked why he was there, 46-year Reston resident Ron Skillson said, "We are one of the pioneers and never left. I like music for one, and I like the atmosphere. It's wonderful here in Lake Anne with the morning Farmers Market and the festival in the afternoon and evening. It's sponsored by Reston Community Center where I serve on the board. Now I'm going to get a beer to go with my pretzel."
As blues music filled the air, Li Ballard and her husband Steven sat on the wall banking Lake Anne Plaza, looked over the water and smiled. Asked why they came, Li said, "We live in Hawaii now, but we used to work in Reston 30 years ago. We have a company here in Virginia, and I was closing our brick and mortar store. I saw this in the paper. The music drew me, the jazz, and we are reminiscing all the wonderful times we had here."
Lake Anne Plaza hosted the Lake Anne Jazz and Blues Festival sponsored by Friends of Lake Anne and the Lake Anne Plaza Merchants with support from Reston Community Center.