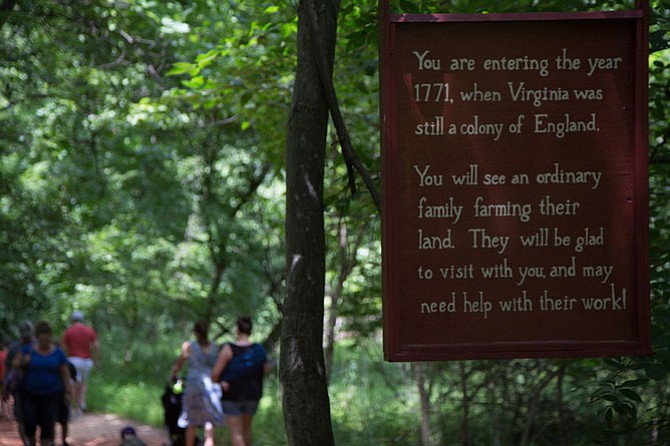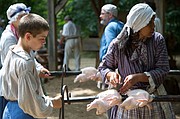 Stepping into Claude Moore Colonial Farm is walking back into the history of America when it was still a colony of England. The year is 1771, four years before the American Revolution and reenactors fill the farm paths wearing bonnets, hats, and gowns made by hand.
The costumed interpreters stay in character as they serve spit-roasted chicken, meat pies, beer, lemonade, and sausages. The farm family enjoys visitors and takes pride in doing all of the farm work by hand just as it was in 1771.
There are also some places of historical importance to the Claude Moore Colonial Farm, including: Tolston's Mill, six miles west; The Falls Church, eight miles east; The Tobacco Warehouse, three miles to the east; and the Town of Alexandria which was a day's walk away or 15 miles — the nearest town to the farm in 1771.
The farm itself includes cattle, chicken, corn, flax, a garden, geese, hogs, and orchard, pond, tobacco, and turkeys.
NOW, THE FARM focuses on education and events for children and families to engage with history. "This is a great learning experience for the kids. It involves all of the senses," said Melissa Wilcox, a U.S. military spouse at the event Saturday.
"It's great to learn about the history of our country," said Ryan Repass. His mother, Daphne Repass, a U.S. Military Spouse said "we like it because we can talk to people from the time period."
Reenactors from all parts of the country also come to Claude Moore Farm to take part in the living history event that was held this past weekend on Saturday and Sunday.
Brad Rivera, 52, a business owner, and Elizabeth McClung, 51, a construction project manager visited with the First New Jersey of the Continental and donned the apparel of the 1770's.
"I love it, though there's not enough of us, it's a family. Women always wore a white cap of some kind and this one is a bit fancy," said McClung.
U.S. Rep. Barbara Comstock (R-10), helped to pass a bill in congress approving the Land Exchange at the Farm. "The Claude Moore Colonial Farm at Turkey Run in McLean is a living history museum that portrays family life on a small farm at the birth of our nation," she said.
Comstock helped the farm resolve a land dispute involving the Federal Highway Administration and the Central Intelligence Agency.
Phillip C. Zane, President, Claude Moore Colonial Farm said, "we are very grateful that this transfer of land is being completed as it has allowed the Farm to have free and open vehicular access. We sincerely thank Congresswoman Comstock for getting this accomplished."
Similar legislation about land transfer adjacent to the George Washington Parkway was presented by Sen. Mark Warner (D-VA).
Adrienne Conroy, 48, with Historical Hounds came to the event this past weekend at Claude Moore Colonial Farm. "Reenacting is a fun way to learn about history, and fun for people to see us. It makes history live for people because it's not a boring book or a teacher," she said. "The kids are going to remember that!"