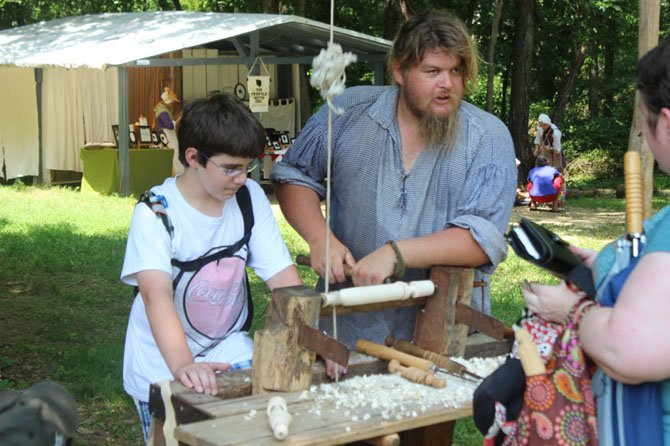 The sounds of violin and shouts of laughter filled the air as people explored the grounds, played games and listened to live music. This weekend, July 20-21, the annual Summer Market Fair was held at the Claude Moore Colonial Farm at Turkey Run.
Located in McLean, the Claude Moore Colonial Farm reenacts the typical farm life of Virginia in 1771, just before the American Revolution. Visitors can walk on a stone path that leads to a tobacco barn, tobacco field, a typical colonial house, and even live animals that were kept during that time.
The Market Fair Grounds, however, is where the fair is held, where visitors can eat roasted chicken, watch plays and try activities that were typical of the time. The admission was $6 for adults and $3 for children and senior citizens.
"We've been here several times and my wife wanted to go to the Market Fair," said Ryan Phillips, who is a Human Resources (HR) manager. "We really enjoy this place. It's good for our girls to see the history."
There were also many activities for children. They were able to use watercolors to paint fans, create little dolls and play games, such as bobbing for apples.
"I like the painting," Elinor Sonnet, 4, said. "I painted a girl with her dolly."
The fair was a good way for visitors to be acquainted with history and see how life was back then. Even some British visitors were interested to see what America was like back then.
"We just wanted to try something American," said Jo Greening, who moved to this area about a year ago from England. "It was a good way to see something historical and special."