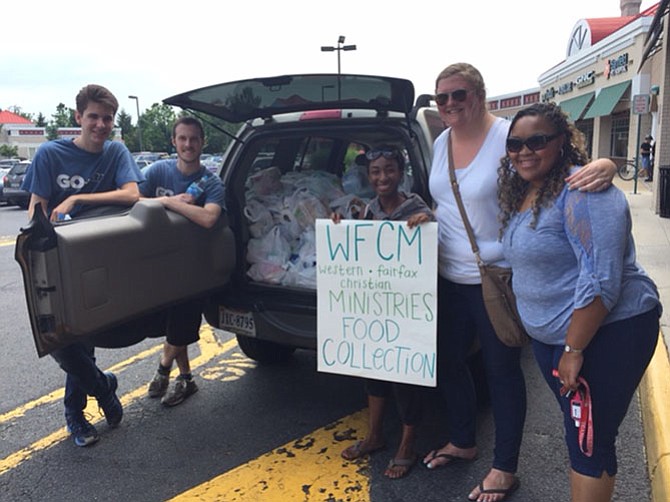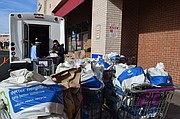 WFCM is organizing a community-wide food drive to help replenish and restock the shelves of Western Fairfax Christian Ministries' (WFCM) food pantry which serves hungry individuals and families in western Fairfax County. Keeping the food pantry shelves stocked during the summer months is a challenge — particularly with children out of school and unable to access free or reduced price meals daily at their school. Additionally, with many regular donors on vacation during the summer, donations to the food pantry drop during a heavy-use time. WFCM needs the community's help to serve those struggling with food insecurity and needs.
WFCM invites residents to shop and donate food and monetary donations at three "Stock the Shelves" locations, on Saturday, July 29, from 9 a.m. – 3 p.m. Food drives will be held at Centreville Giant Grocery Store, 14125 St Germain Drive, Centreville; Chantilly Walmart, 4368 Chantilly Shopping Center Drive, Chantilly; and Greenbriar Giant Grocery Store, 13043 Lee Jackson Memorial Hwy., Fairfax. At each grocery store location, volunteers will distribute a most-needed food list to encourage shoppers to purchase items needed to restock WFCM's pantry shelves.
Some of the items most needed at WFCM's Food Pantry include: canned fruit, canned meats, rice, dry or canned beans, oatmeal or cereal, cooking oil, sugar, juice boxes, dry pasta and sauce, and canned vegetables (other than green beans). Personal hygiene items are also needed and clients are unable to purchase these items with food stamps: small dish soap, laundry detergent, soap, shampoo, toothpaste, deodorant, diapers (size 4, 5, and 6) and feminine care items.
Volunteers are also needed to help with the food collection effort between 9 a.m. – 3 p.m. at the various locations. Duties will include handing out flyers, collecting donations from customers, and weighing, sorting, and organizing food items. Volunteers are also needed between 3 p.m. and 6 p.m. at WFCM's food pantry, located at 4511 Daly Drive, Chantilly, to help accept food donations as they come in from the grocery store locations that will be a part of the community-wide effort. To volunteer, contact Jennie Bush at jbush@wfcmva.org or 703-988-9656, ext. 107.
Financial gifts to assist with pantry needs are also accepted. Write a check payable to WFCM and mail to WFCM, attn.: Stock Our Shelves, PO Box 220802, Chantilly, VA 20153.